Forest Service Professionals Prepare for a Prescribed Burn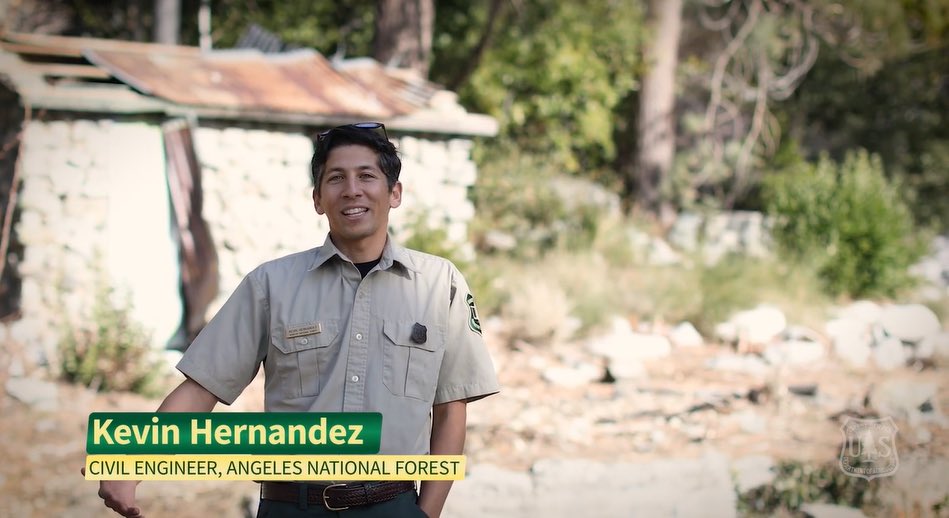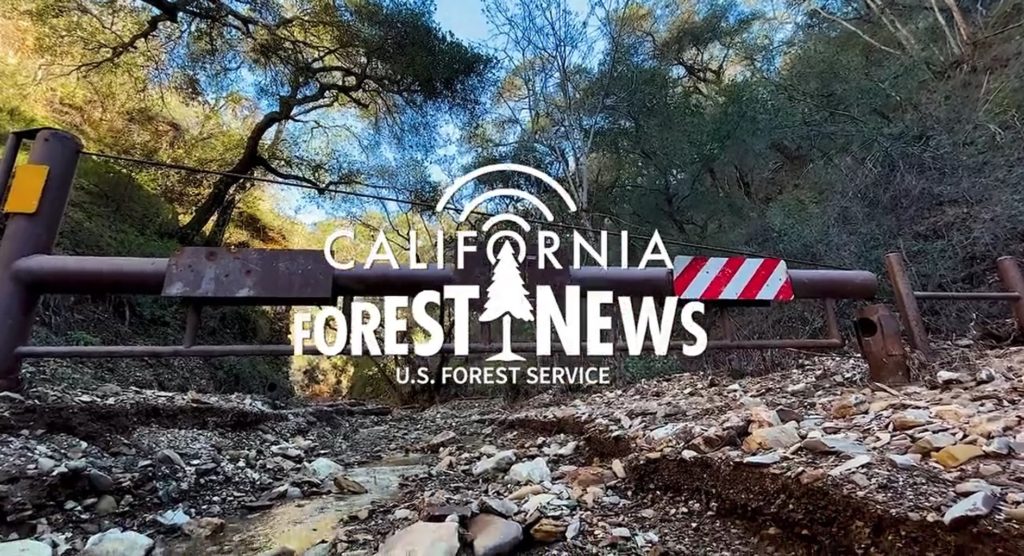 Ski Resorts and National Forests for the Triple Win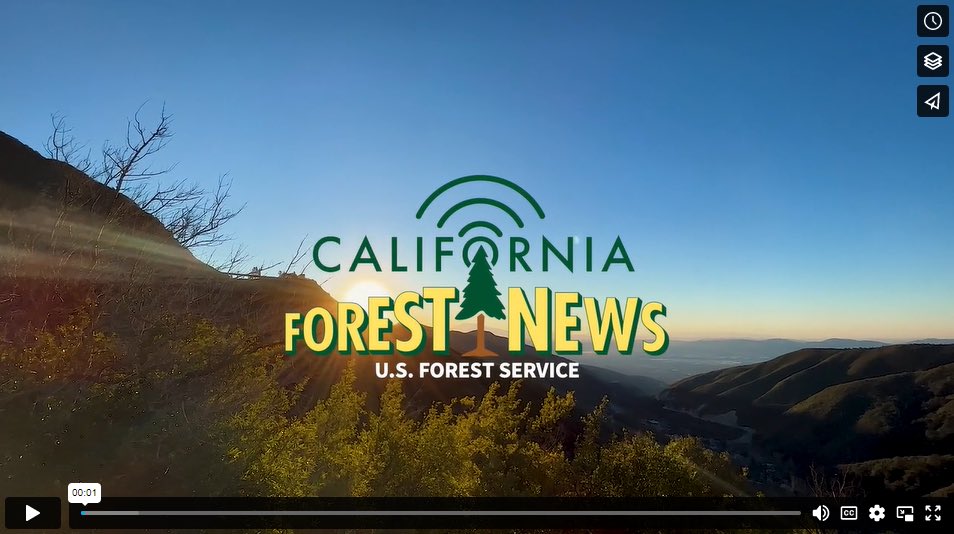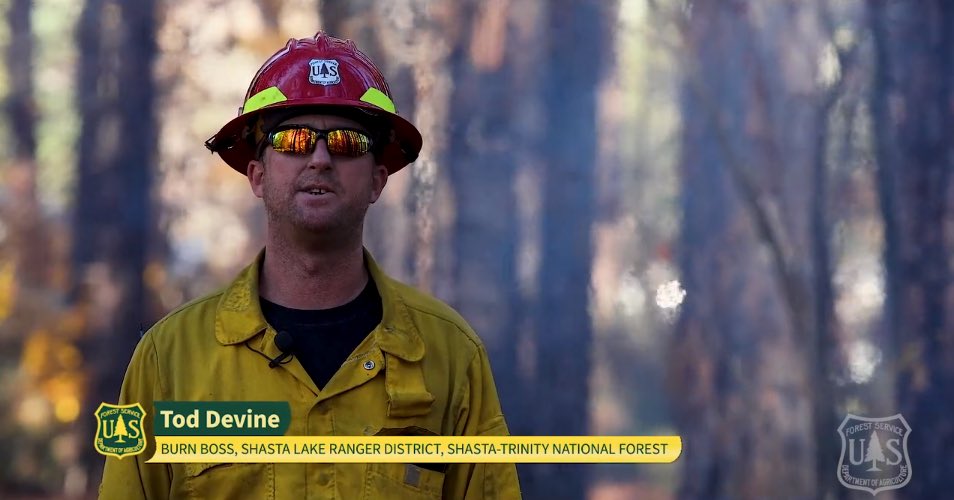 Innovative Forestry: New Equipment, Big Data Potential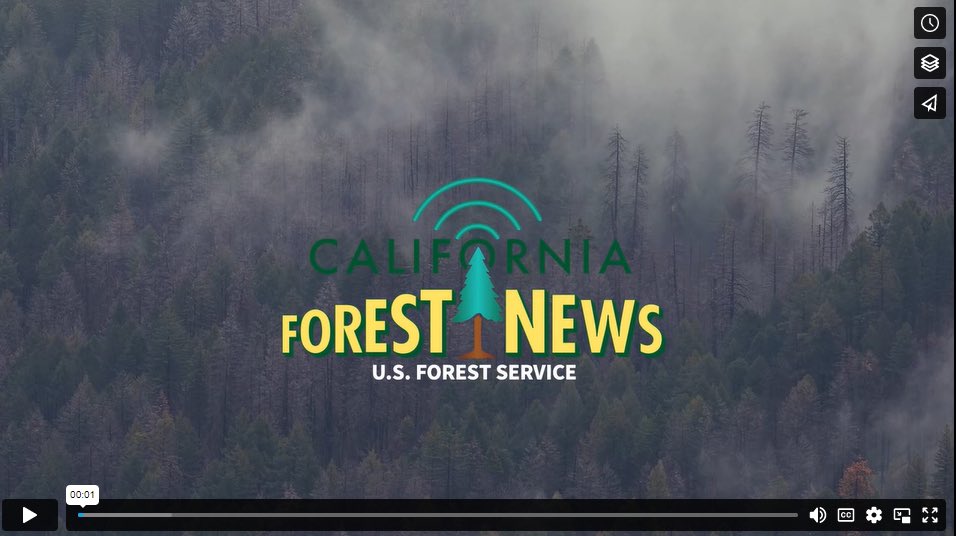 Pile Burning on the Shasta-Trinity National Forest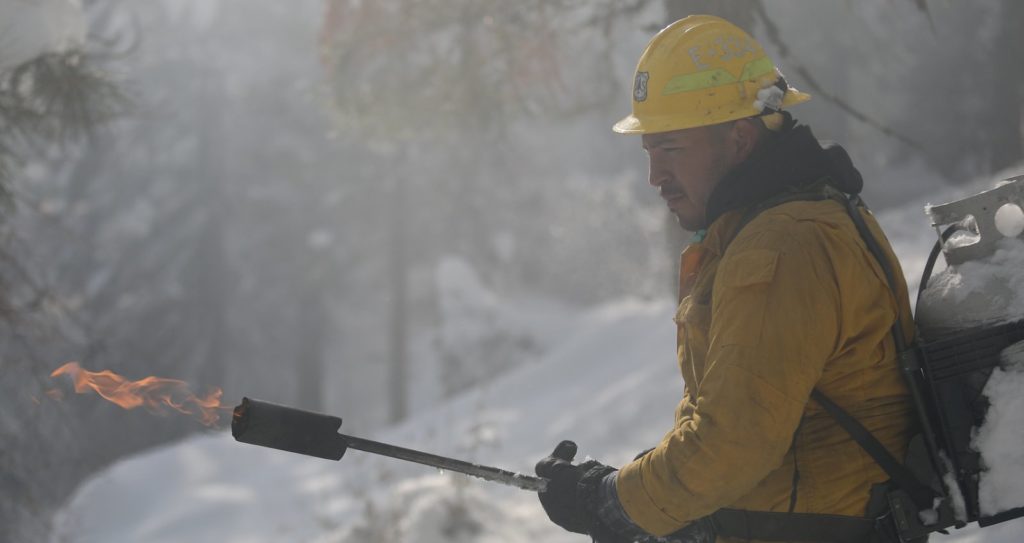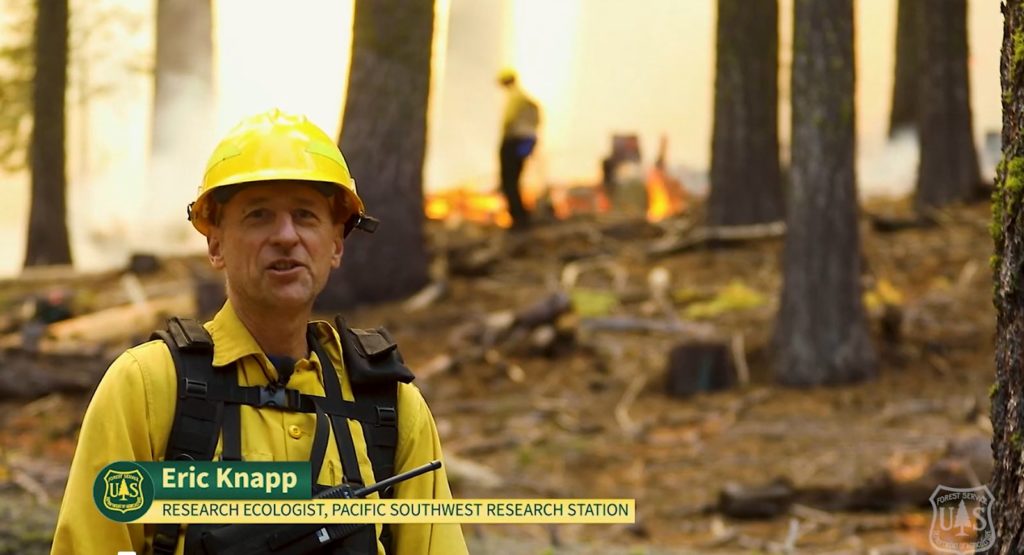 Growing Wildland Communities and Reducing Wildfire Threat
The 98% Suppression Rate: Analyzing Extreme Wildfire Behavior
Innovating Overstocked Forests to Better Health
Mechanized birds: Wildland firefighting with drone intelligence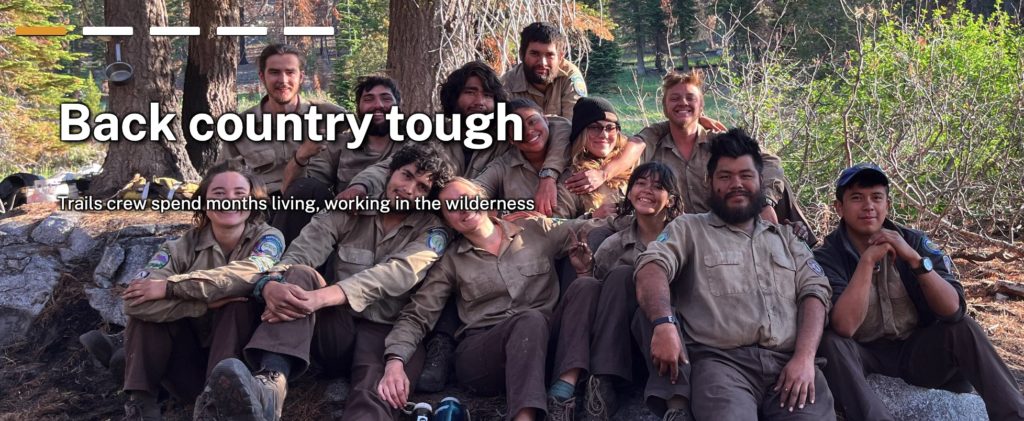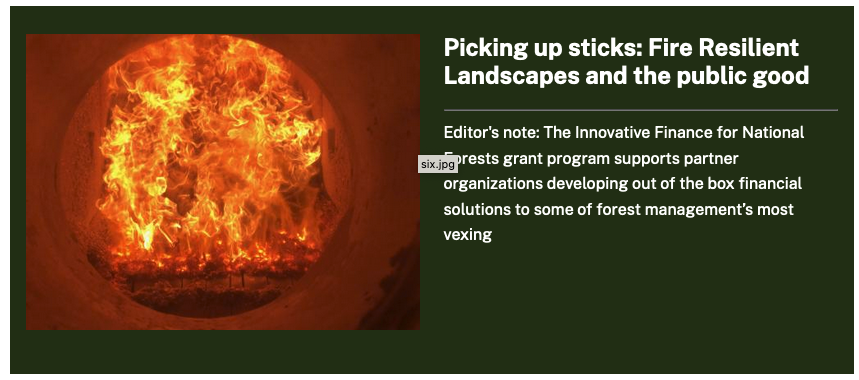 The country's first responders But even when the emergency subsides, and the uniform comes off there's a dedication that doesn't.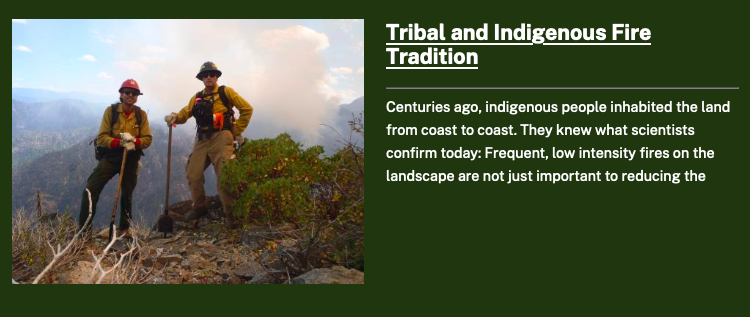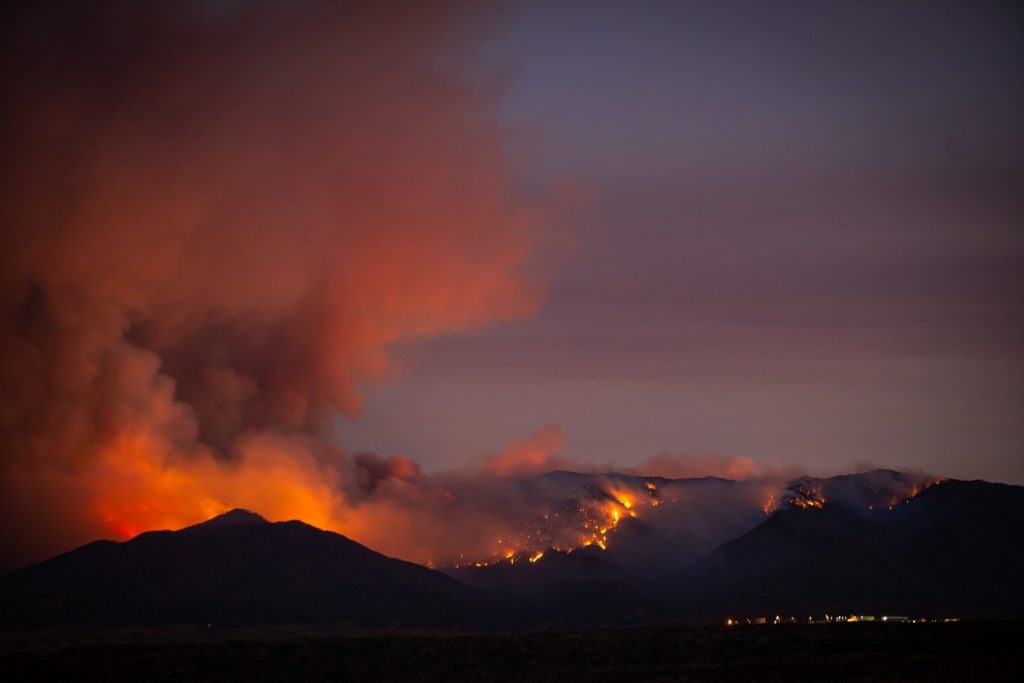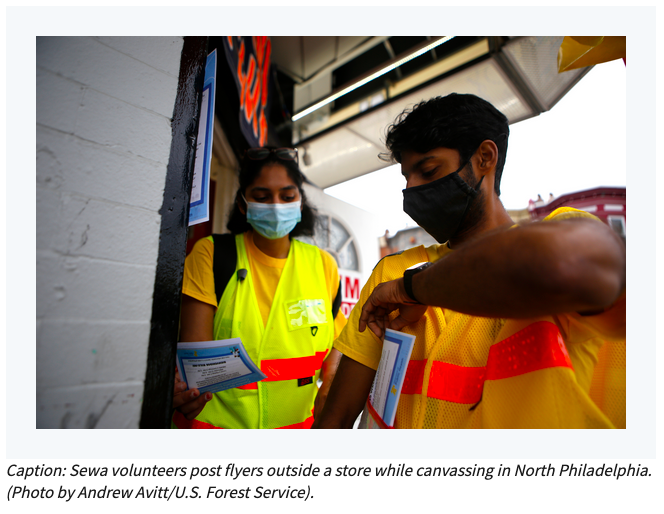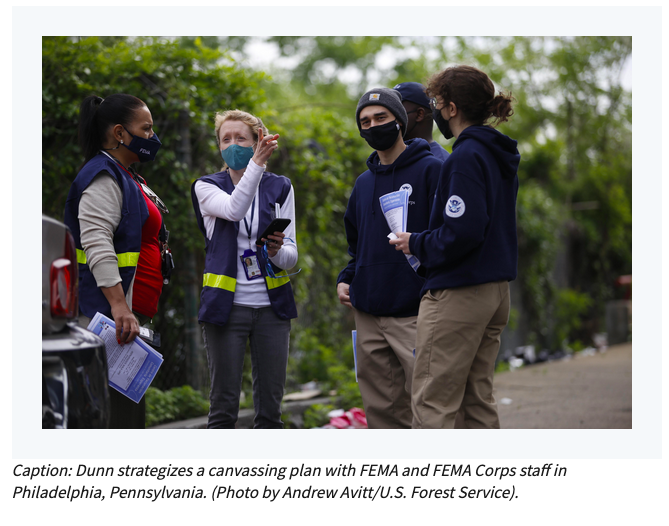 Andrew Avitt
Office of Communication
Andrew Avitt
Office of Communication
Andrew Avitt
Office of Communication
Andrew Avitt
Office of Communication
Andrew Avitt
Office of Communication
Andrew Avitt
Office of Communication
Feb 02, 2021
Andrew Avitt
Office of Communication
Andrew Avitt
Office of Communication
Landing page photo by Andrew Avitt
Trump comes to Town
(click the image for gallery)
Homeless Veterans Attend Stanley Cup
 
 FOODBasket Pickup
 "The Health Trust Jerry Larson FOODBasket is a space committed to strengthening the health of our clients by delivering top notch nutrition services. Three times a month it transforms from a warehouse to a grocery store, where our AIDS Services clients can conveniently pick up their groceries in a wholesome, clean and safe environment.
A time lapse at The Jerry Larson FOODBasket shows the much appreciated hard work our volunteers contribute. They helped in sorting over 18,000 lbs of produce! Thanks again! Second Harvest Food Bank (video by Andrew S. Avitt)

"All the Way Home" is a campaign of Destination: Home that aims to end veteran homelessness in San Jose by the 100th Anniversary of Veterans Day in 2018. (Photo by Andrew S. Avitt)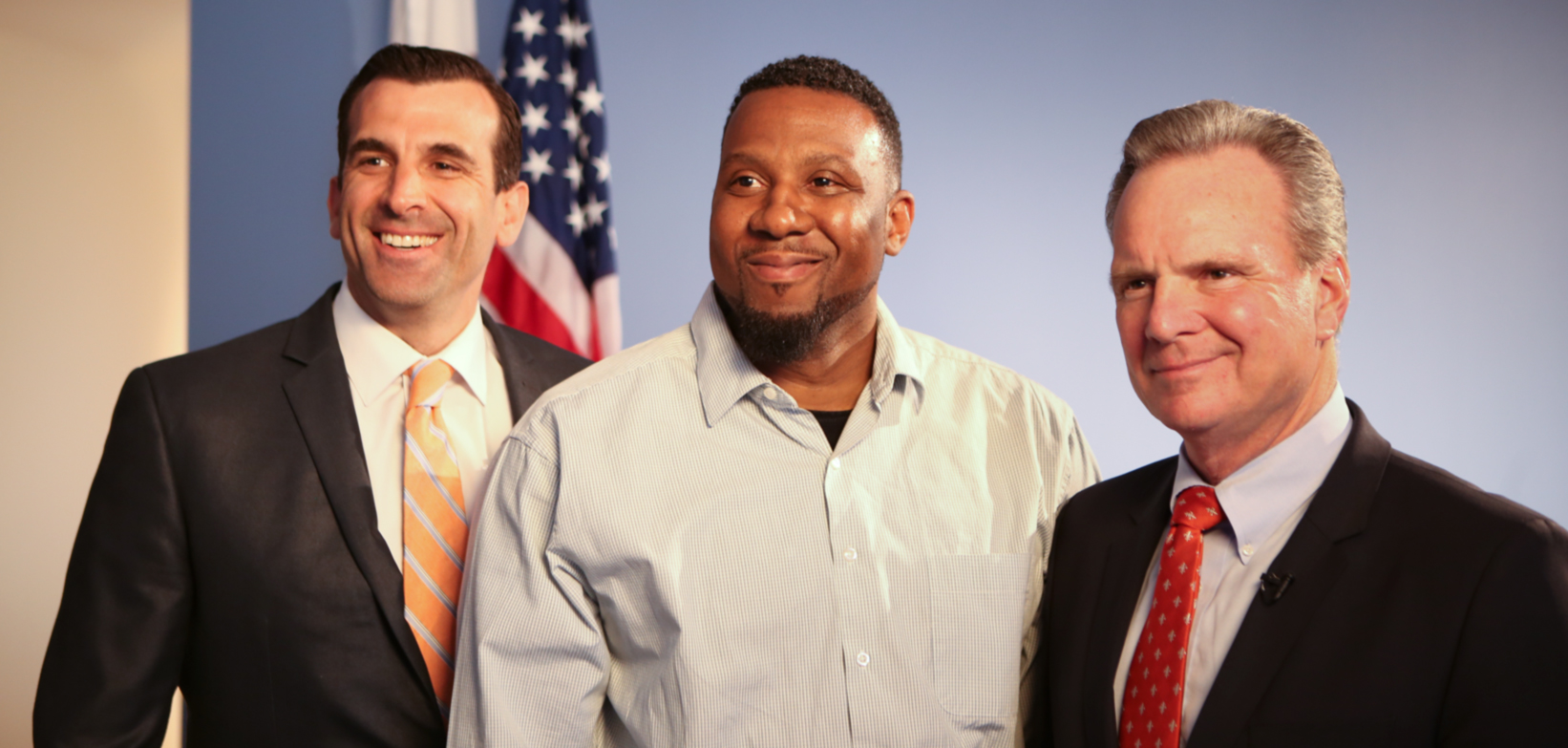 (From left to righT) San Jose Mayor Sam Liccardo, Tony Harrison formerly homeless veteran and current homeless case manager, and Santa Clara County Board President Dave Cortese film a promotional video aimed at ending veteran homelessness in the county by 2018. (photo by Andrew S. Avitt)

There are currently 703 homeless veterans in Santa Clara County, 683 are single and 20 are living in families.(Photo by Andrew S. Avitt)
Catalyst Cost Study: an Unprecedented Look at Homelessness
This slideshow requires JavaScript.
The struggle of homelessness and the fight to end it can be seen in cities across the United States. Assistance for the homeless comes in various forms of resources, and public services. Recently organizations and service providers in Santa Clara County, Calif., collaborated to uncover the costs related to these resources, to streamline current strategies and to inform the new ones.
Destination: Home, a non profit organization which aims to end homelessness in the county and The Economic Round Table, a Los Angeles based nonprofit organization that investigates economic and social problems facing communities, worked together to compile the homelessness cost study "Home Not Found: The Cost of Homelessness in Silicon Valley," which revealed that more than $2.5 billion had been spent on homlessness during a 6-year period..
Jennifer Loving, executive director of Destination: Home, called the Home Not Found cost study definitive because of its comprehensive breakdown of costs associated with specific homeless populations.
"The data allows us to be proactive," she said, "so that we can isolate subgroups of the homeless who use the most expensive services and to focus the right interventions towards those people."
The study compiled diverse-data streams to analyze the population that experienced homelessness in Santa Clara County between 2007 and 2012, and found that the top 5% of the homeless population accounts for 47% of all public costs.
"Understanding these costs and their distribution across the homeless demographic, will better allow us to use the resources we do have to make the greatest impact, by focusing on triaging and providing services for the most at risk individuals," said Loving.
The study represents the most comprehensive body of information on the public costs of homelessness that has been assembled in the United States.
Daniel Flaming, President of Economic Round Table worked with Destination: Home to collect and analyze more than 25 million records across the county, and said that the findings were illuminating.
"The study has helped define homelessness and focuses attention on frequent users of public services such as health, justice and emergency services," he said, "The solution is clear, we need to provide permanent housing for the chronically homeless, not just because it is right but because it is also more fiscally responsible than letting those same homeless remain in their situation."
Greg, a man who has requested the use of only his first name, has experienced homeless intermittently for almost two decades and says that there is more to it than most might expect .
"See, what people don't understand about homelessness is how difficult it is to escape," he said.
For the last 5 months Greg has been seeking help from one non profit organization Home First, which provides beds, hot meals and showers, but also serves as a center for services and caseworkers to provide easy access to resources for the homeless.
Without the resources offered at Home First, Greg said, he would be spending most of his day commuting between service providers and county offices leaving little to no time to work or look for a job.
"You're homeless and you're frustrated and there's no way you could do it on your own. It's impossible," he said.
This slideshow requires JavaScript.
The use of services, makes up only one main point of the cost study. Another, affordable housing, remains as one of the most effective and lasting solutions for homeless individuals, said Andrea Urton, Chief Executive officer for Home First.
According to the study, the persistently homeless cost an average of $83,000 in services to taxpayers per year. However, that average is skewed heavily by the top 10% of the highest cost homeless. In contrast, typical homeless individuals cost an average of around $13,000 per year. In this way the study concludes that if permanent housing were prioritized for the highest cost homeless individuals, the savings would more than offset the funding for permanent housing.
Urton, who has worked with the homeless for more than 20 years and has also experienced times of instability and homelessness growing up, said she also understands the detrimental health effects of living outside.
According to the cost study, health related services account for 53% of all costs associated with homelessness individuals. Those costs reflect the very dire needs of the population Home First serves, said Urton.
"We serve the hardest of the hard," she said. Although the shelter is typically closed during the day, the chronically disabled and ill are allowed in.
"The chronically ill are at such a great risk," said Urton, "Last year we had 33 homeless people die, most because they were fragile with compromised immune systems and didn't get the medical attention they needed."
Home First also has sought to integrate with the existing health care system, providing better care for homeless individuals while at the same time drastically cutting the financial burden on the local health care system.
"The difference is $40 per bed here at homefirst versus thousands of dollars a night at a local hospital," she said.
Homeless that are treated in the hospital are often released to homefirst, where the remainder of care and surveillance is carried out by medical respite nurses and doctors on staff, which makes a huge difference in the bottom line, said Urton.
Though the cost study in itself has not yet solved the problem of homelessness in Santa Clara County, it has provided an in depth look into the problem and various elements that it is comprised of.
Not too often is the right thing to do, also the most financially sound. Now armed with the data from the Home Not Found cost study, advocacy for strategies of disruptive innovation have the support from empirical data to reshape how Santa Clara County and perhaps the country addresses resolving homelessness.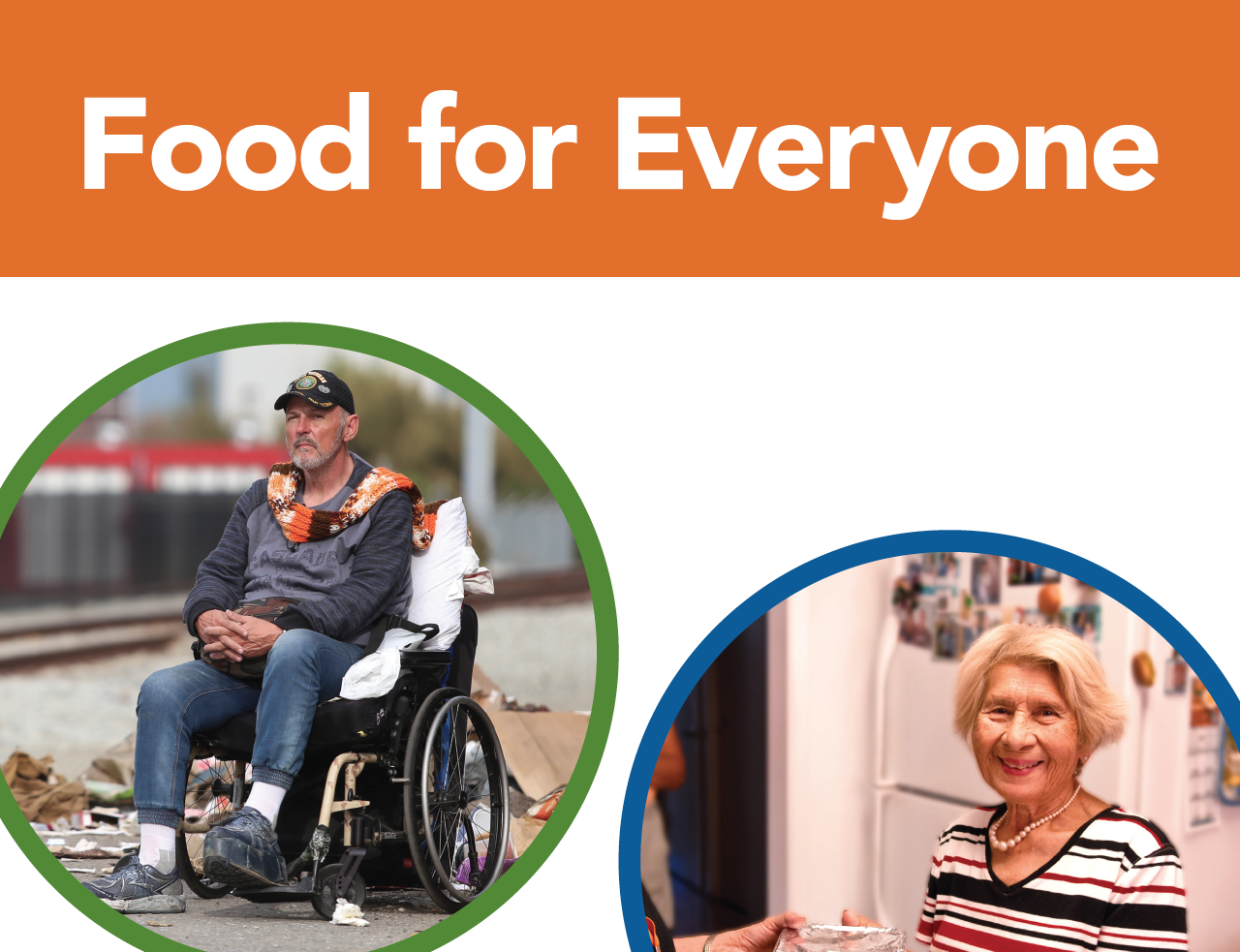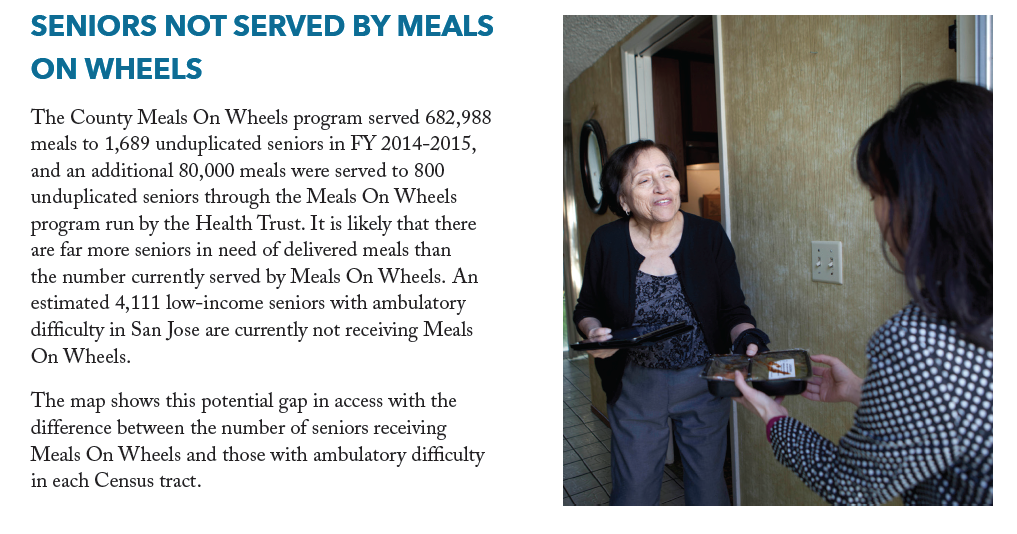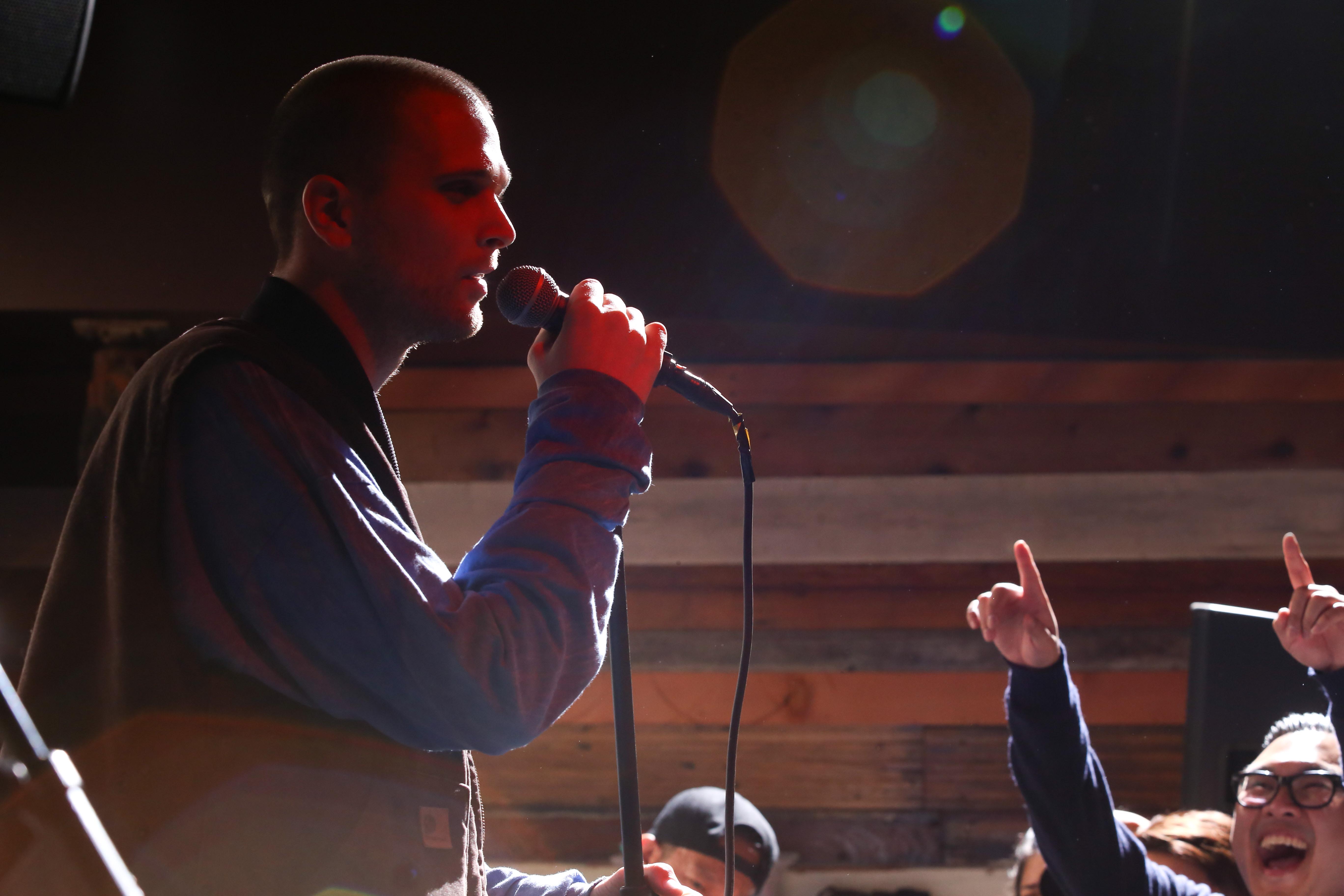 Christian Rich lay down some ideas in the form of bumpin beats at The Continental Bar October 7, 2015 in San Jose.
Cinemagraph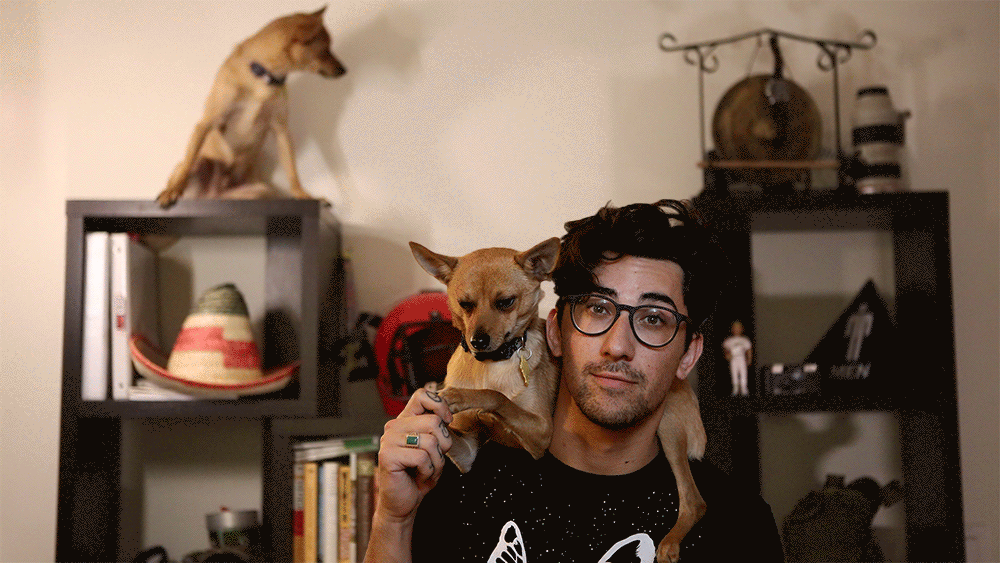 New an inventive mediums are always very attractive to me. This GIF explores traditional cinemagraph techniques but also became an experiment to see how lighting might be animated for effect.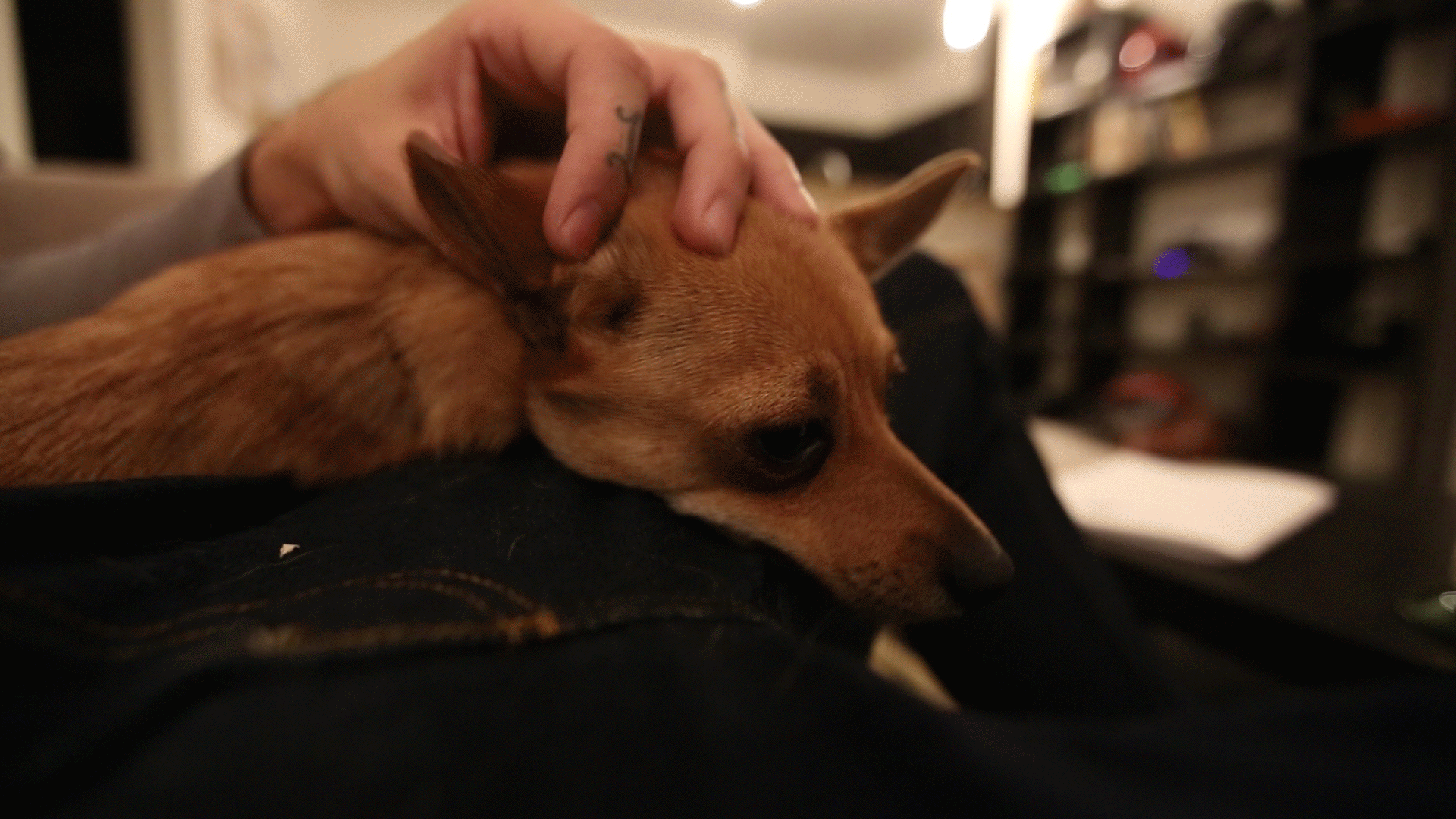 Star Self Portrait 
Pool Day

While creating this Cinemagraph, I asked myself what would really take this project to the next level. For this project it was animating the water reflections on Will. Without the environment interacting with the subject, the composition looked unnatural.
 Constellation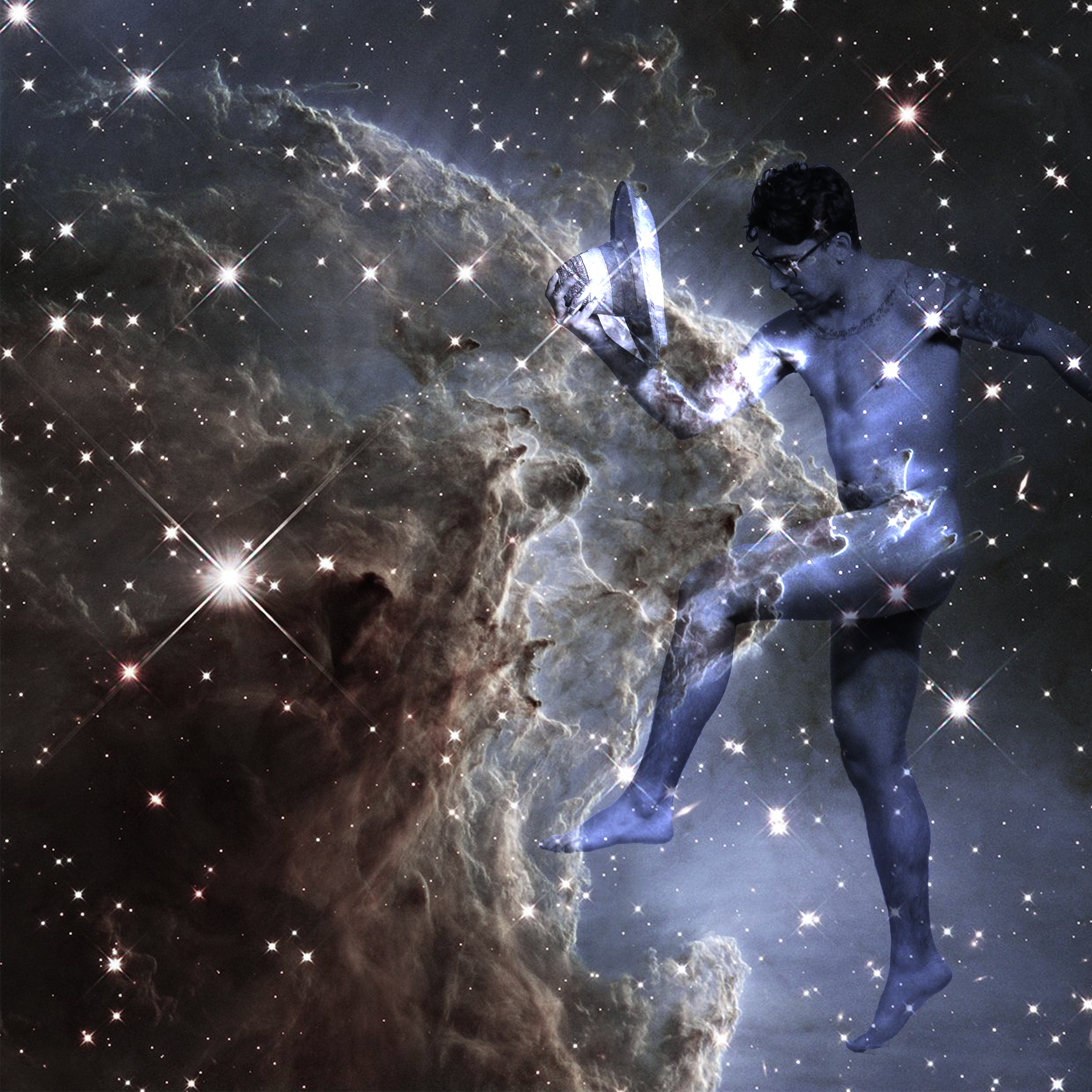 Hubble Space Telescope images are beautiful, why not use them to practice photoshop skills?
Record Store Day 2015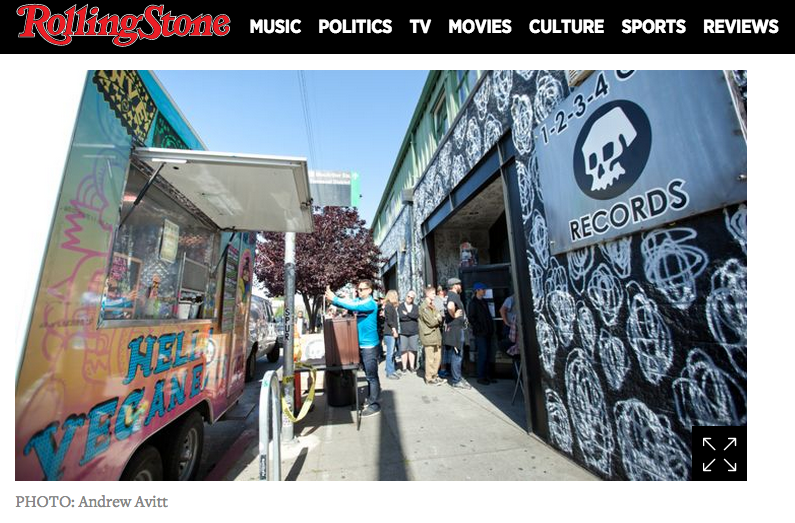 Writing, Photography, Layout & Design for The Health Trust Spring Newsletter 2015

---
Layout and Design for The Health Trust's Annual Report

–
---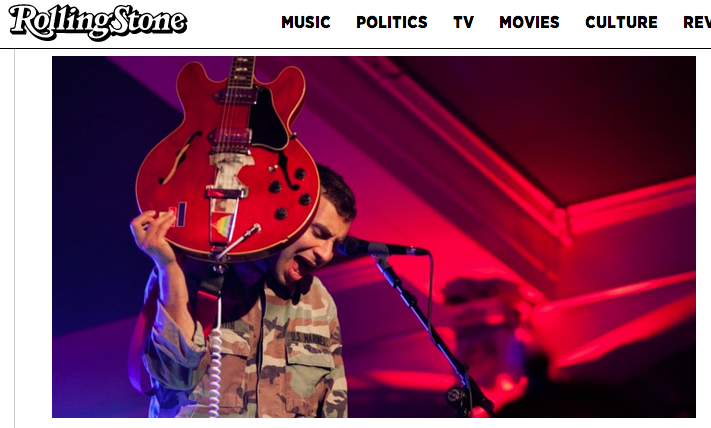 Photo Gallery by Andrew Avitt
---
Elmo Jo Rodriguez writes poems for passing strangers just outside the entrance of Pier 39, in San Fransisco.
I met a writer near the entrance of pier 29 a few days ago. He wrote me a poem. I shot some pictures. We swapped. Here they are.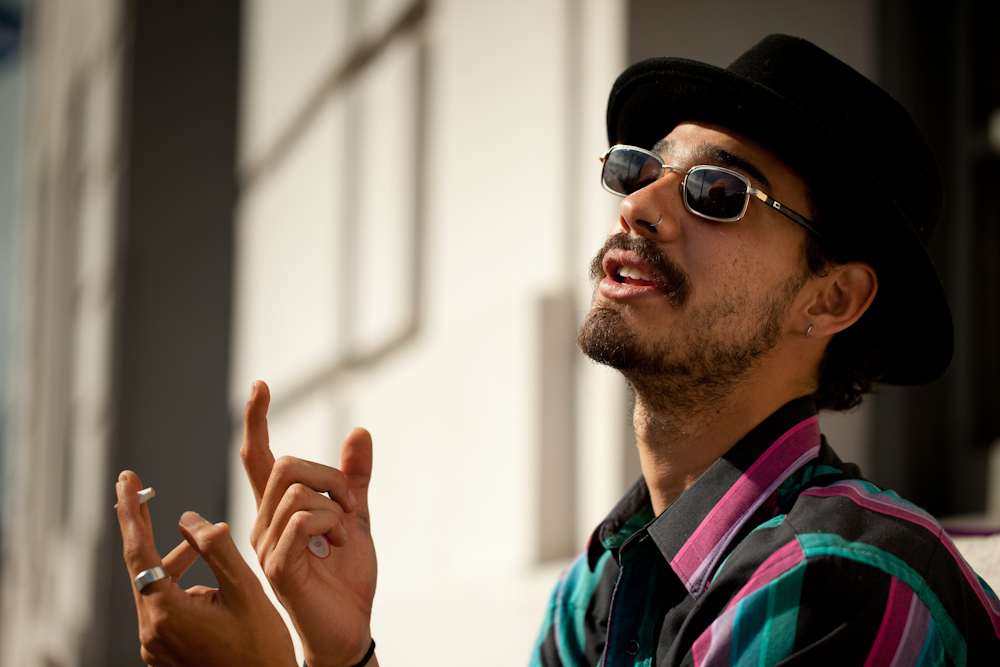 "Intenciones"
And there might not be a single reason
to explain why or how do we happen
to be here in a present moment
and we might never get to know…
There are paths with a heart
and paths without a heart
none of them make somewhere
its just what he said…
Coincidences and how they happen to find us
in a perfect timing I'll say it again
when the universe conspires
things just start happening.
Decisions decisions decisions
they are the ones to blame
taking ourselves around and around
oh well here we go again…
There is a great mystery
and we might not get to know hime.
anyway I better keep asking
el pajare campanna
el mo jo rodriguez
---
Photos: Associate dean paints what's beneath the stereotype
By Andrew Avitt on June 23, 2014
"Have you ever observed yourself observing other people? Are there preconceived judgments and assumptions that inform what you see?"
These are just a few of the pointed questions that Associate Dean of Students (and born-again painter) Rick Lewis, M.S. '87, wants his audience to think about when they view his series of portraits of African-American men.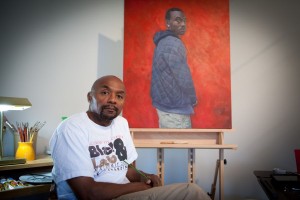 Lewis plans to complete 20 portraits of 20 young men for an exhibition next year—an ambitious return to painting for the School of Artalumnus. That return (after a 19-year break) was difficult, Lewis said, but the time was crucial to understand his current subject and spark the idea for his series.
"I always knew that African-American males had some unique challenges being on a predominantly white campus," said Lewis, who joined the ISU staff in 1987. "These ideas were incubating in my head over the last 19 years. I often asked myself what would it look like if I had to illustrate it."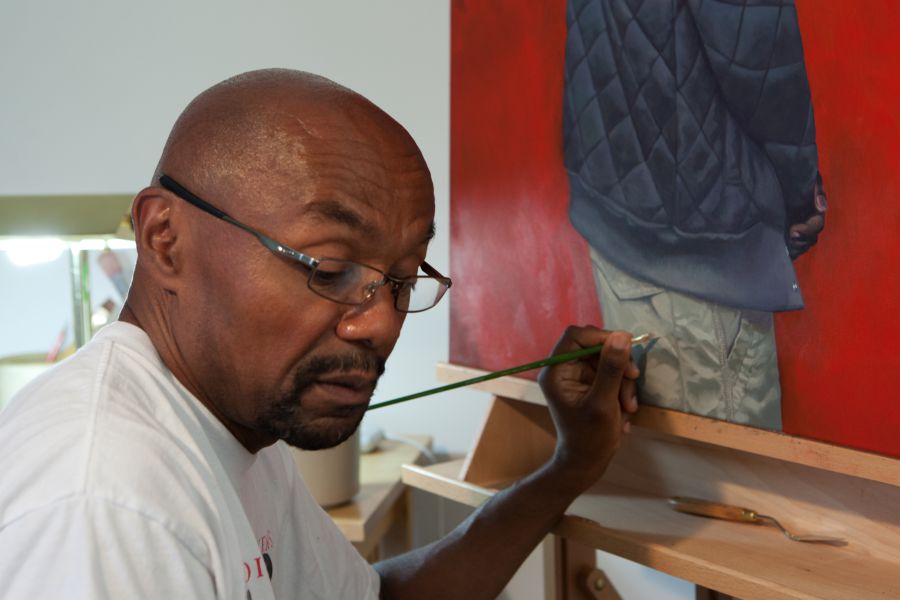 The portraits may make those with preconceived notions uncomfortable, said Lewis, who aims to multiply that discomfort by filling an entire gallery. The emotional impact of a painting is a powerful tool which Lewis says could serve as a catalyst for challenging those preconceptions and starting meaningful dialogue.
Lewis' creative process starts by taking a photograph of the person he will be painting, allowing him to paint during his free time. Then he starts the long process of painting in painstaking detail. Depending on his schedule and the subject, a single portrait could take one month or several months.
Each model (mostly students) is asked to wear clothing without brands and symbols, and they're painted in a natural pose against a neutral background, void of context. By controlling these elements and directing his subjects, Lewis aims to show them in the most natural, unassuming light.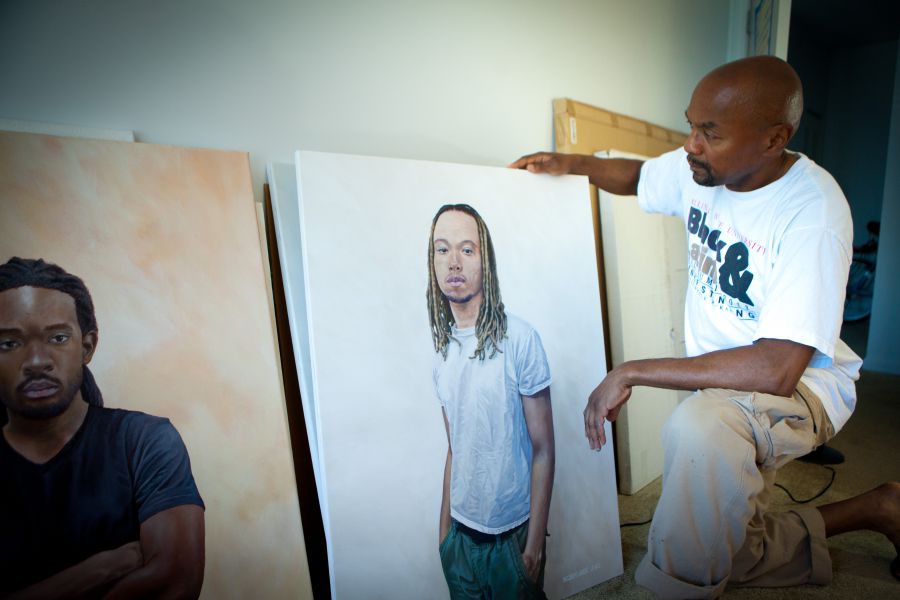 "When a person approaches this artwork, all they have to work with is what they see and the assumptions they bring to it," Lewis said. "My work is stripped of narratives and visual cues. And then the viewer has to ask themselves, 'What assumptions am I making about this person based on this limited amount of information I have in front of me? Where did I learn these assumptions? Why am I thinking this?'"
Eye-opening experience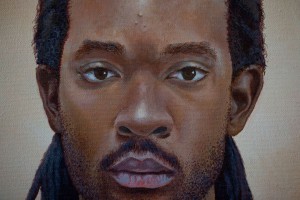 The paintings can spark self-reflection not just among the audience, but the subjects too. Junior anthropology major William Shaw agreed to be painted in part because of the positive dialogue it could generate.
"I thought it would be an excellent idea to create artwork of African-Americans in a spectrum that only portrays the individual and not the attributes of society that have been placed on us," said Shaw. "I am not a black man who loves rap, smoking, deviance, and grows my hair long because of some fad. I am a man first who just happened to be born black, meaning that my skin will tell you nothing of who I am.
"You must discard your preconceived notions of 'black' people, in order to understand the people that lie beyond your misconceptions," said Shaw. Lewis finished his painting of Shaw last fall.
"My reaction was that the painting looked like an over-exaggerated version of myself," Shaw said. "I felt that it showed a false sense of portraying what I physically looked like. But after talking to people who see me on a daily basis, I realized that I had a negative self-image of myself."
Shaw realized that negative past experiences with people and organizations had an effect on him, but that those experiences didn't have to define him.
"Mr. Lewis' painting made me realize that it is time to see myself for what I am (and) could be, and not through the eyes of others who only see my worth in their narrow view of understanding," Shaw said.
Lewis plans to complete 20 paintings for an exhibit that will include interactive autobiographies for each of the students painted. He hopes to premiere his work next spring.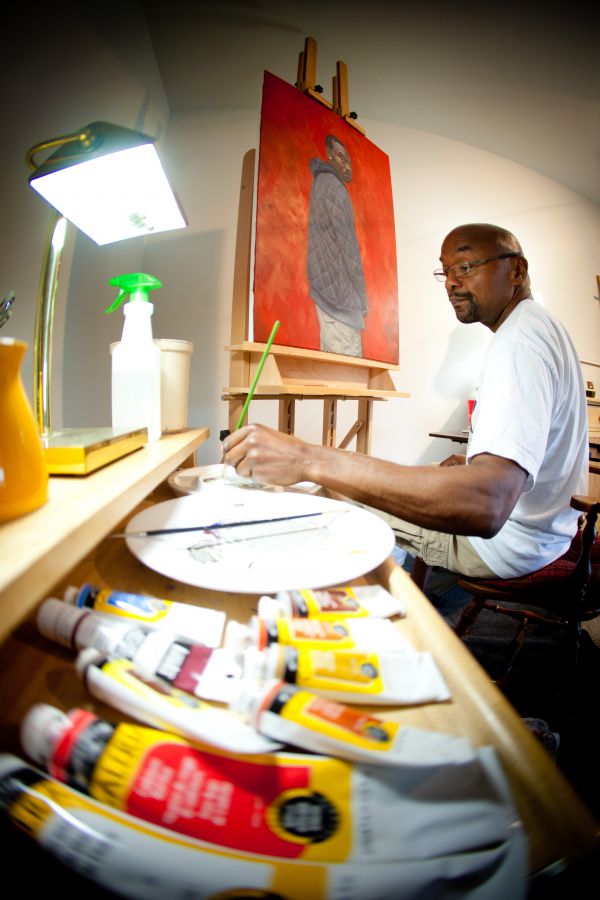 "I'm an educator," said Lewis. "Ultimately I want to use this artwork to educate students on differences and acceptance and how to rethink stereotypes."
At Umoja, an ISU community celebrates its graduates
By Andrew Avitt on May 14, 2014 | No Comment
 Most graduating students eagerly wait for one big day to finally arrive. Anthony T. Williams Jr. had three.
They were his graduate program's hooding ceremony, his college's commencement, and then Umoja: Celebration of Black Graduates, an event that's steeped in its own tradition. Umoja mirrors Illinois State's main commencement ceremonies in many ways, but it also has many vibrant and culturally distinct differences, such as the inclusion of music, call and response, and dancing.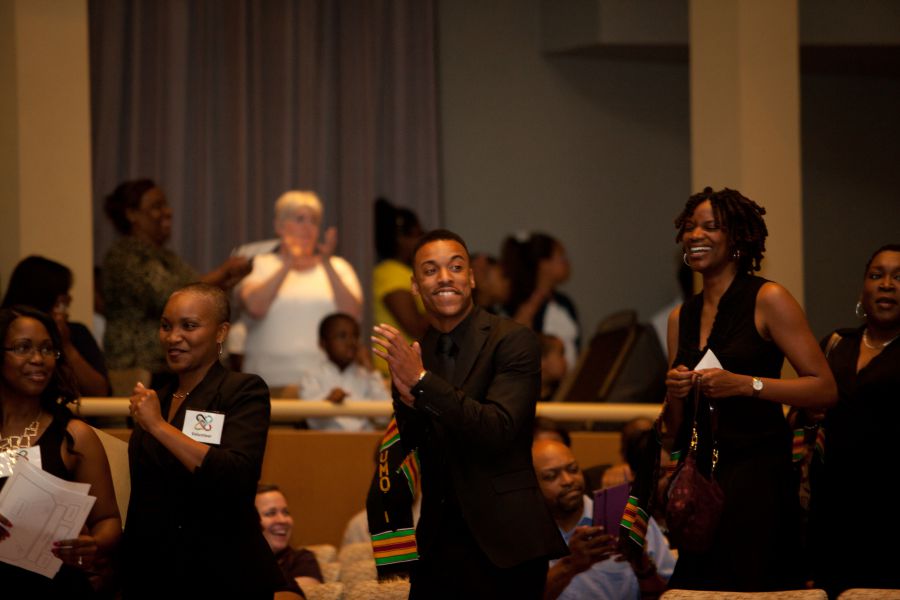 "We're very excited to celebrate in the way that our ancestors celebrated," said Williams, a master's graduate in college student personnel administration. "It's not so uptight, not so formal. It's a chance for family and friends to come out and really celebrate you.
"At the main commencement they tell you, 'Please hold all applause until the end,'" he added. "If that's the first person ever in your family to graduate college, how can you be expected to control your excitement? You're going to be as proud and as loud as you can be. That's just a small but very important aspect of the (Umoja) celebration."
Umoja is the Swahili word for "unity," a fitting name for this pre-commencement celebration of black graduates, now in its second year.
The May 8 event, steeped in deep cultural and historical tradition, brought together 79 graduating students and their families and friends at the Center for the Performing Arts. It's hosted by the Association of Black Academic Employees and the Black Graduate Student Association.
"Umoja, the ceremony as it is conceptualized here at ISU, really was born in the hearts and minds of alumni, staff, faculty, and students," said Pamela Twyman Hoff, co-chair of the Umoja steering committee and an assistant professor in the Department of Educational Administration and Foundations. "We wanted to use that principal to guide us in creating and developing a celebration for African-American students in an African-American cultural context."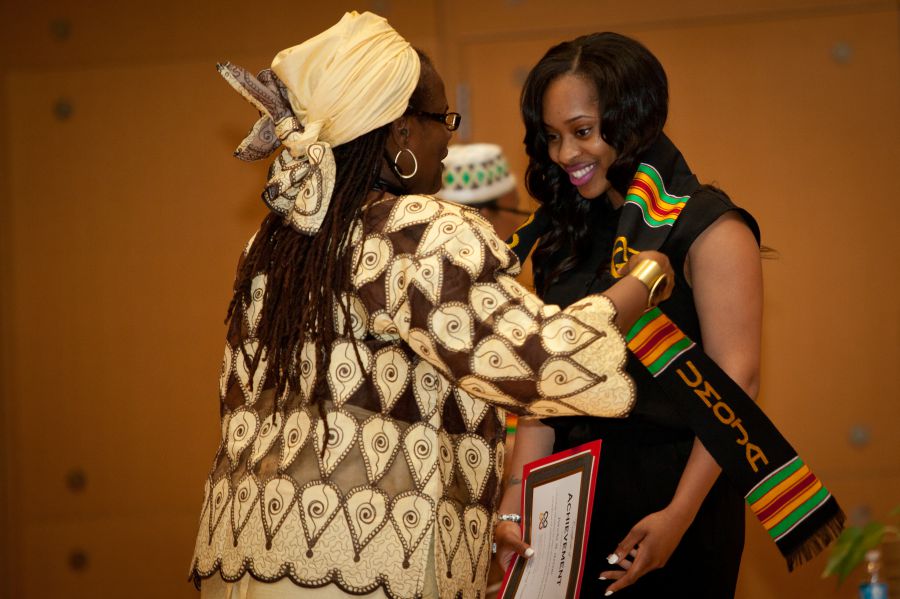 This year's Umoja (pronounced Um-OH-juh) theme was the three R's of black education: resistance, resilience, and reciprocity.
During the ceremony graduates names are called while music plays. A confident walk, strut, or dance across the stage is encouraged, and graduates receive a certificate of achievement and a Kente cloth.
The Kente cloth, which has its roots in many West African countries, is a hand-woven fabric and typically worn during ceremonies and other special events.
"Students receive this as a way of reminding them that they are connected to a larger cultural diaspora," said Hoff. "We have that historical and cultural connection as well, reminding students that they have a social responsibility and a cultural responsibility to give back to the community."
Graduating senior Shacoby Henderson, who studied psychology, wants to do just that, and her commitment will soon take her around the world.
"Even though I'm about to graduate, and I've done enough in my community in college that I want to go outside that," said Henderson. "I'm going to Ghana for three weeks to work in orphanages and to help with HIV/AIDS patients. After, I want to go to graduate school for social work, to work with children with disabilities."
Another graduating senior, Jordan Strickland, who also studied psychology, plans to follow a similar path. "I'm feeling excellent right now," Strickland said. "I'm planning on getting a position with City Year. It's (an AmeriCorps) program where you go back and you help schools out in the inner city. It'll be nice to able to go back and show kids there that you can make it out of trying situations."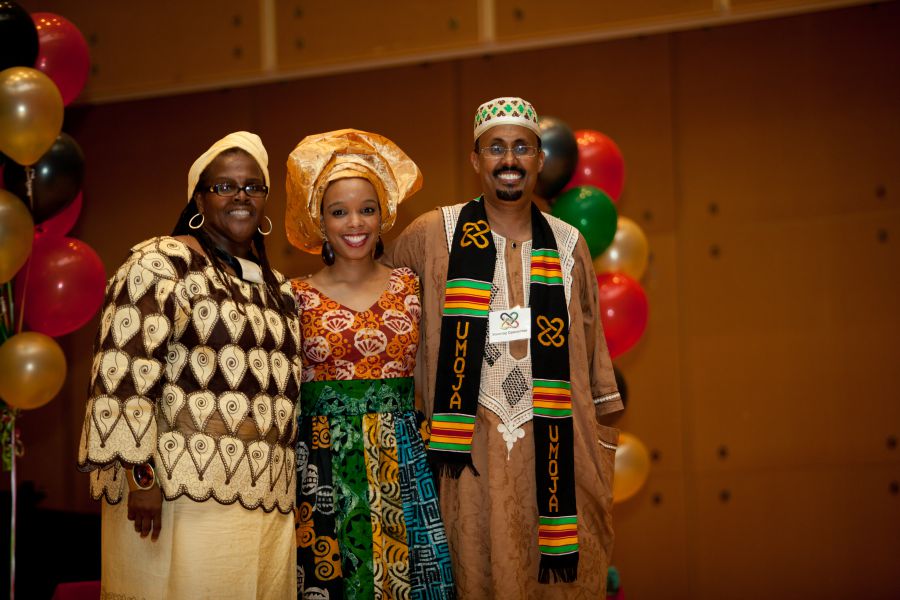 Cultural celebrations like Umoja take place at universities all across the country.
"At many universities, depending where it's located geographically, you'll see Native American students being honored from their cultural perspective, or you'll see Chicanos (or Latinas) honoring their students. This is a cultural expression from each group's own vantage point," said Hoff.
It's not an attempt to segregate, and all students are able to participate from their own cultural perspective, said Hoff. About 7 percent of Illinois State students are black or African-American.
"Folks can come and participate as long as they understand that this is from a cultural vantage point that is typically marginalized in universities throughout the nation," she said. The number of Umoja participants doubled in its second year and will hopefully continue to grow in the years to come, said Hoff.

Photos: Daring to suck with Theatre of Ted
By Andrew Avitt on April 21, 2014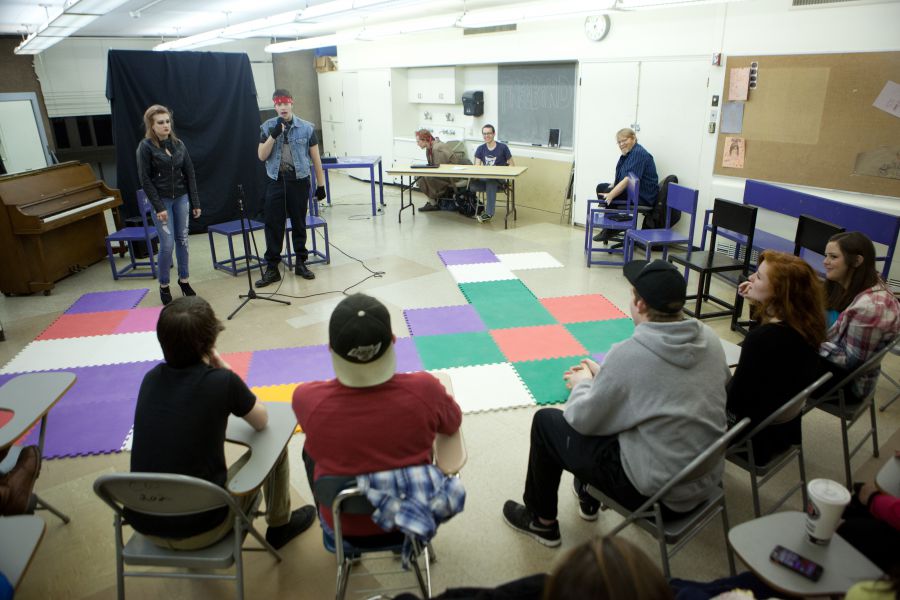 An otherwise dark and dead Centennial West serves as a magical meeting place most Saturday nights at around midnight. That's when deep in its dark corridors in room 301, actors and actresses clad in outrageous outfits, poets and songwriters armed with instruments and prose, and comedians equipped with tasteless satire, meet to share their talent and a few outrageous laughs.
The registered student organization Theatre of Ted was started in 1990 by students who wanted a place to perform without being criticized or critiqued by faculty. One act that night set the bar for Ted's trademark outrageousness—naked jumping jacks, performed by one of the group's founding members. Now more than 20 years later, Ted has grown into a creative free-for-all that's helped Illinois State students from all majors—not just theatre—break out of their shells. Chris Stevenson, a freshman education major, reflected on his first night and introduction to Theatre of Ted last September.
Chris Stevenson, a freshman history education major, performs a newly created villainous character during a skit at Theatre of Ted on April 5, 2014.
"It's a whole new world you walk into in here, and things are debaucherous. The strangest things happen. People sing, people dance, people make total asses of themselves, and it's a lot of fun. There's so much energy," Stevenson said.
Since he first attended, Stevenson has become enthusiastic about his late Saturday nights.
"While I'm going between classes, studying up, I'm thinking about what kind of new character I can do this coming Saturday, and what I can do to make people laugh," he said.
Every year two hosts are chosen to take charge of the chaos and help to curate the many performances and transition between them with snarky remarks usually related to that week's theme, such as Metal, Passover, Mardi Gras, Wrestletedia, or Pajama Party Ted.
Attendees are encouraged to dress up and contribute skits, songs, and poems related to the chosen theme. Unsurprisingly, it is by no means the rule. In fact, there are very few rules. The rules that do govern the RSO are common sense, said Pete Guither,  faculty advisor for Theatre of Ted. Some of those rules include the restriction of drugs and alcohol and the destruction of property, but what he says is most exciting are the rules that aren't there.
"It's completely uncensored," said Guither. "Nothing is prescreened and anyone can sign up." Those that do seem to inherently abide by Theatre of Ted's motto: Dare to Suck. "Dare to Suck. It's taking risks. It's doing things that are outside of the box. It's doing the things that you don't get a chance to do in a classroom," Guither said.
Illinois State alum Eli Van Sickel, M.S. '13, a former Ted performer and host, said the organization helped him break through boundaries that were limiting him while at ISU.
"I've always struggled with openness, plus I was at a new school in a new state, so I really feel like 'Dare to Suck' and my experiences at Ted helped me blossom," Van Sickel told STATEside. "Secondly, as host, I was performing every week, so that gave me a real creative outlet."
Van Sickel recalled one such blossoming experience performing at Theatre of Ted, which also helped to raise money for the organization. (That's right: This gang of reckless artists has the good sense to help the University through fundraisers. Every spring Theatre of Ted hosts a foursquare marathon to raise money for student scholarships.)
"The most outrageous act I was ever part of, a friend of mine and I got naked, put paint all over our bodies, and painted a bunch of canvasses, which were then auctioned off as part of a Ted fundraiser," Van Sickel said.
Ted is always guaranteed to burn the midnight oil. With attendance varying from smaller groups of 10 to 15 students to larger groups nearing 150, sometimes that midnight oil turns into 5-o'clock-in-the-morning oil. Regardless, the RSO is open to new participants, whether they are a student in the School of Theatre and Dance or in another major. They are all invited to come out Saturday night and Dare to Suck.
CNN's Don Lemon at Illinois State Dinner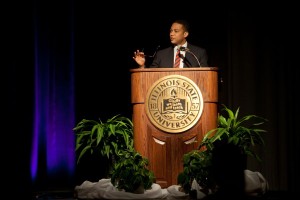 Award-winning CNN anchor Don Lemon delivered the keynote speech at the Black History Month Cultural Dinner in Bone Student   Center's Brown Ballroom on Tuesday. Lemon covered a broad cross-section of his life, focusing on his journey and the adversity he has overcome along the way.
Acknowledging prejudice and racism still exist today, he said dealing with self-limitations and the fear of failure were among the biggest obstacles he had to overcome.
"Nothing is easy," Lemon told the Illinois State University crowd. "When you're trying to live with the fear of failure, it's going to be hard, but you have to do it."
The cultural dinner was sponsored by University Housing Services in collaboration with Campus Dining Services, MECCPAC, Association of Residence Halls, Tri-Towers Area Government and the West Campus Diversity Coalition. During the dinner, Lemon spoke specifically about the self-doubt he experienced while writing his book Transparent, in which he revealed he was gay.
The daunting task of writing seemed overwhelming at the time, but he said that just like exercising, it wasn't meant to be easy.
"Once I started putting my thoughts onto the page and they kept coming out, I wrote the book within a couple of months," Lemon said. "I was living with the threat of failure. I was not playing it safe. No one has ever accomplished anything by playing it safe."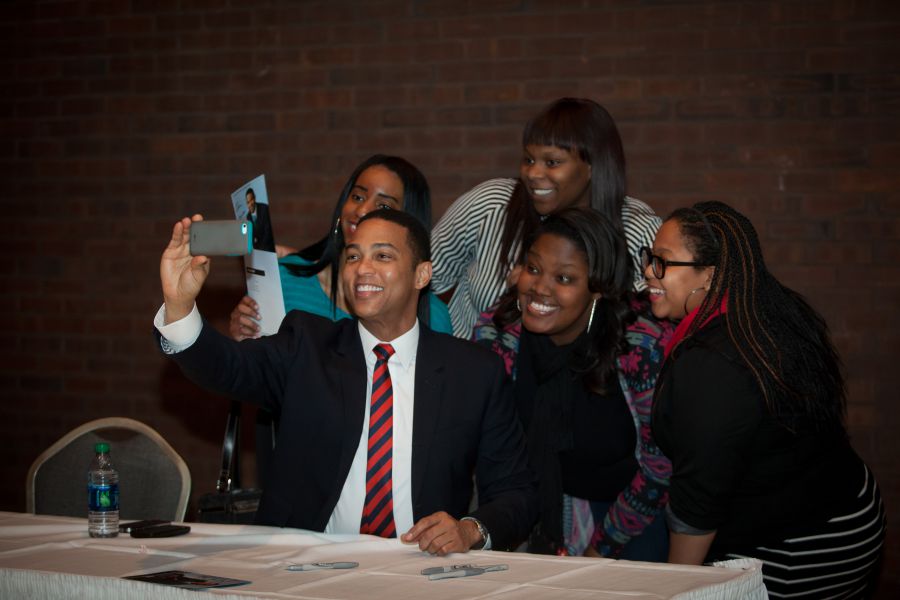 Lemon recalled the first time he took a step back and looked at how far he'd come in his career. After working as a correspondent and anchor with local television stations, Lemon eventually was given the opportunity to be a newsreader on NBC's Weekend Today show.
"So I called my mother and said, 'You should watch the Weekend Today show.' I didn't want to tell her why…" Lemon said. Just before going live, that realization set in.
"So we are in earpieces, and when the music came up in my earpiece I almost lost it, and I was like, 'Oh Don, you cannot lose it, this is your big shot you cannot lose it,' and it's because I knew my mother was back home and she was watching and she was crying. I could just imagine her watching."
Lemon left the audience with a few encouraging words in his closing remarks.
"If you are doing what you are meant to do, no one can take that away from you. It may not play out exactly how you imagined it. It may not happen as soon as you might want it, but it will happen as long as you work hard, have a good attitude, keep moving, don't take anything personally, don't think of yourself as the other, and live with the threat of failure."
Story and Photos by Cpl. Andrew S. Avitt
Story and Photos by Cpl. Andrew S. Avitt
Marines train in massive, new combat town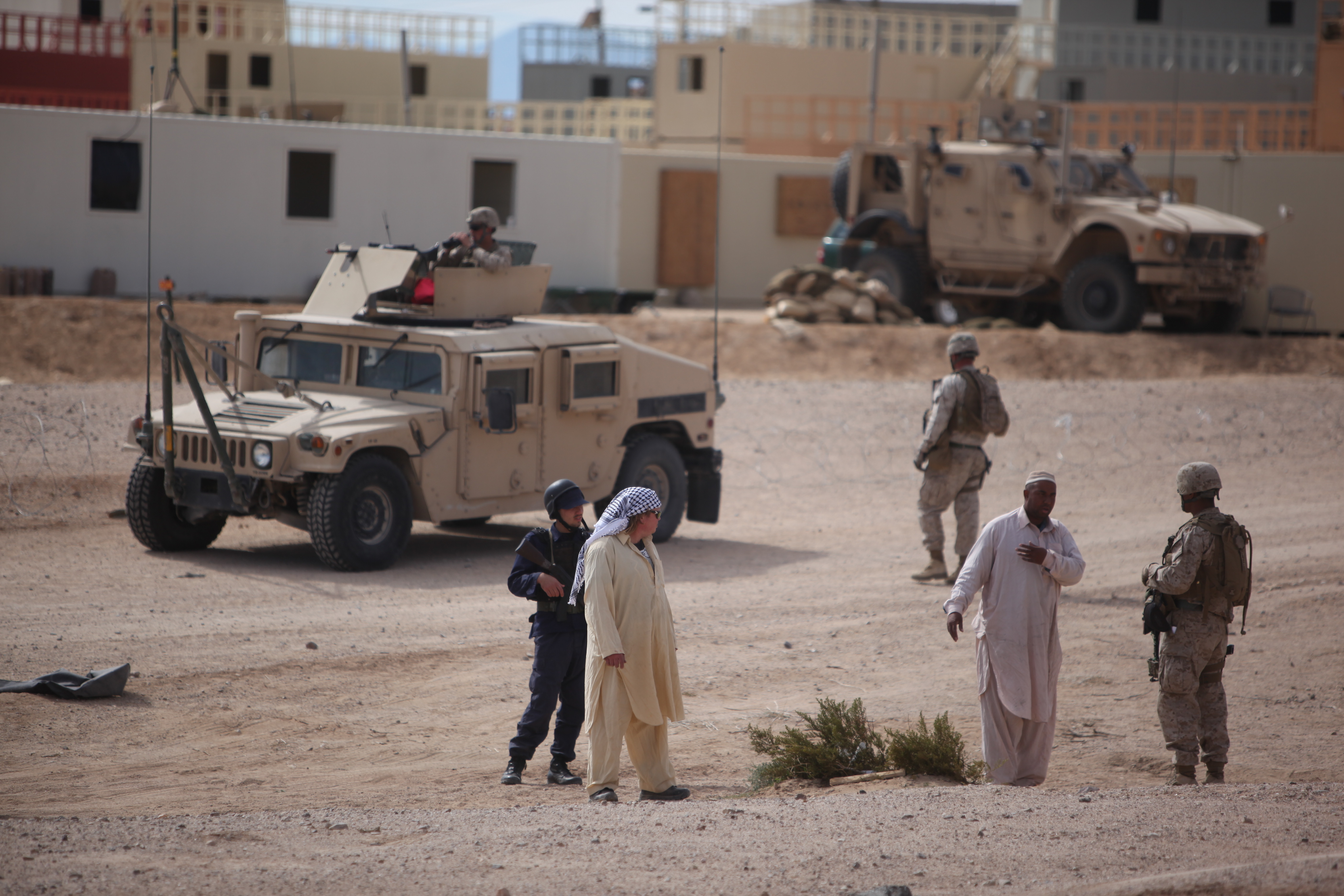 Marines with 1st Battalion, 5th Marine Regiment talk to afghan role players at a vehicle inspection checkpoint, at the Combat Center's new combined arms, live-fire, Military Operations on Urban Terrain training range here, as part of Enhanced Mojave Viper, Feb. 15, 2011. Vehicle checkpoints provide security and help to prevent vehicle born improvised explosive attacks, while in country. (Photo by Cpl. Andrew S. Avitt)
MARINE CORPS AIR GROUND COMBAT CENTER TWENTYNINE PALMS, Calif. — For some Marines the experience of entering an Afghan village for the first time will seem as foreign as the culture they have been entrusted to protect. However, after training at the Combat Center's newest and most realistic "mock" city training complex, many of those Marines will be better prepared to face that challenge.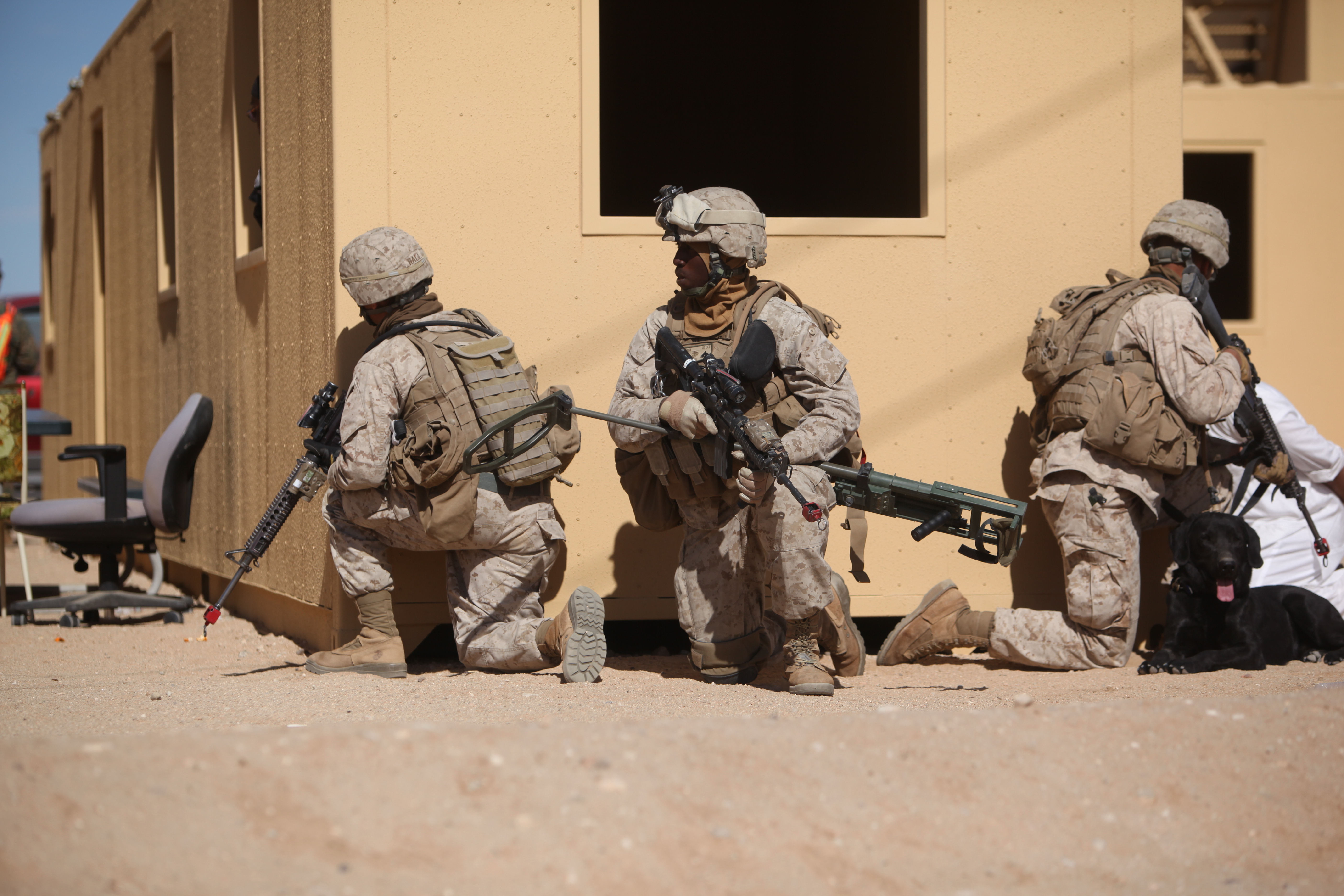 Marines from 1st Battalion, 5th Marine Regiment, 1st Marine Division, are training aboard the combined arms, live-fire, Military Operations on Urban Terrain complex here, which is designed to train Marines as they fight. The Camp Pendleton, Calif.-based unit, used the 1,560-building facility at Range 220 here Feb. 15, 2011, as part of Enhanced Mojave Viper, the Corps' premiere pre-deployment training exercise.
The facility, roughly equivalent in size to downtown San Diego, allows Marines to refine the complex and dangerous tactics they may have to use during their deployment to Afghanistan later this year. The Marines are in the final week of the grueling month-long EMV, which combines all four components of the Marine Air Ground Task Force, the ground combat, logistics, aviation and command elements. Trainers, known as Coyotes, brought in 575 friendly and enemy role players and spread them out over seven separate mock city districts within the 274-acres complex.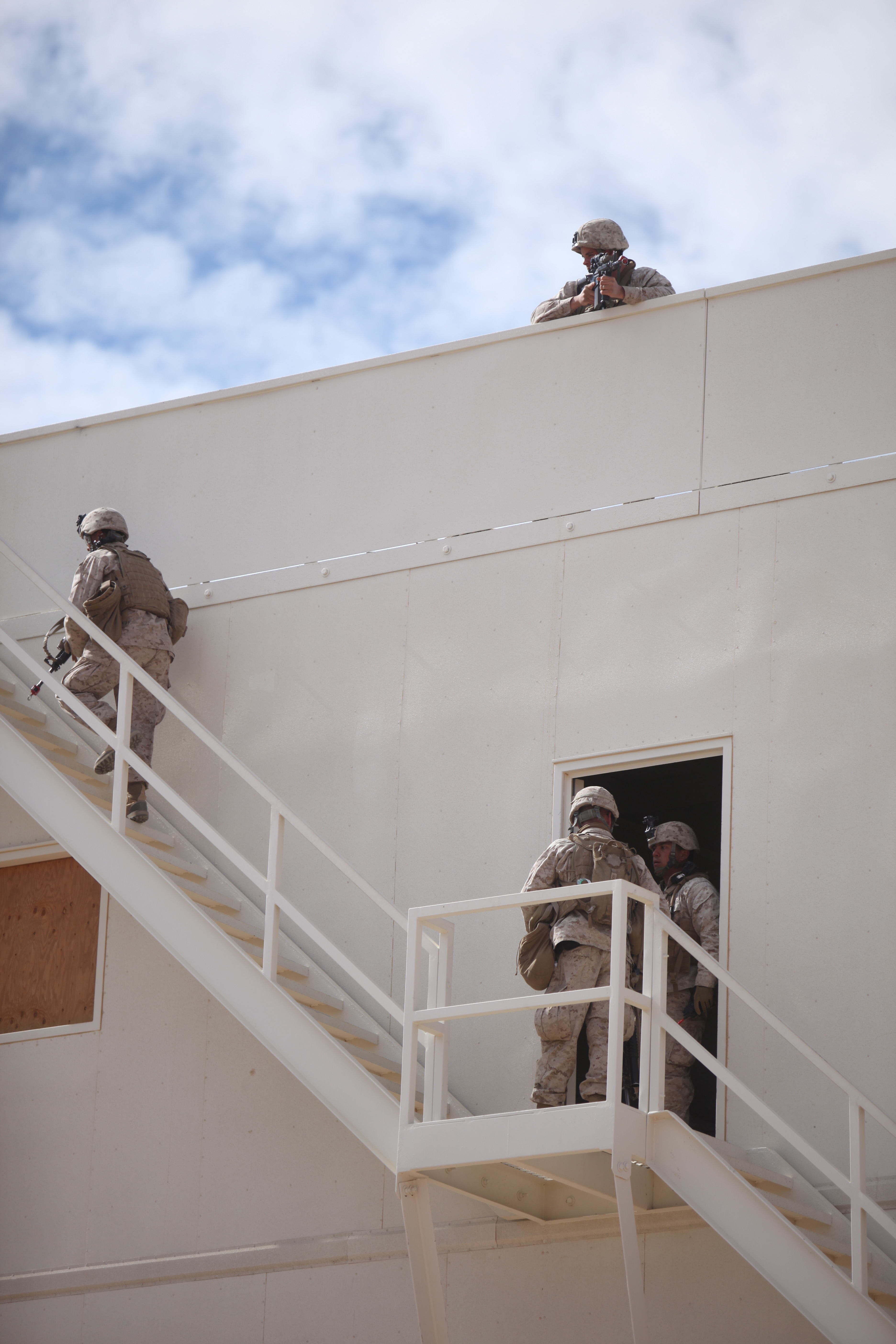 During day and night exercises, small unit leaders and individual Marines were made to interact with role players, some of who spoke little or no English, and others who spoke only Pashto or other dialects found in Afghanistan and nearby regions. They had to communicate by any means necessary in a fast-moving environment filled with explosions, gunfire and the ever-present fog of war.
At times, some had to resort to hand and arm signals when interpreters were not available. Within CAMOUT, Marines were exposed to elaborate scenes filled with true-to-life characters that milled about the town square and alley-ways and often, whose allegiance was hard to distinguish. Trickier yet, a friend could turn to a foe after a serious insult. A "thinking" enemy was quick to adapt and change its tactics and quickly blend right into the crowd after a hit-and-run attack. Both friend and foe followed a general script, but were free to act based on cultural and religious norms and the actions and reactions of the Marines.
With chaos swirling around them, the Marines were often challenged to transition quickly between roles, some of which required different and conflicting skill sets. They had to be warriors during an attack, then conduct search and seizure missions and do crowd control like policemen.
They had to defend themselves from sniper attacks and ambushes, yet be sure to keep their fire in check to protect innocent civilians. They had to be peacekeepers between rival factions, then transition to humanitarian relief work and become goodwill ambassadors.
According to Combat Center officials, this is the current nature of conflict in many areas around the world. This, and recent history and lessons learned were some of the reasons the Combined Arms MOUT facility was constructed.
The complex supports any number of Marines and sailors, from a small 12-man squad to a full Marine Expeditionary Brigade, composed of more than 15,000 Marines and sailors and its supporting units.
CAMOUT's realistic settings such as classrooms, markets, hotels and other businesses complete with role-players, challenged Marines to communicate, coordinate, maneuver and operate in an urban setting. Throughout the facility, the Camp Pendleton-based Marines were constantly kept on the alert by the detonation of improvised explosive devices, and enemy ambushes coming from "spiderhole" hiding places and almost 1,900 feet of enemy tunnels.
They had to search basements and find and destroy weapons caches found in almost 1,900 feet of underground tunnels, a manmade riverbed and dozens of courtyards and compounds, according to an official release. According to Combat Center officials, the $170 million spent on CAMOUT, is a good investment. It will provide vital and realistic training Marines will need to accomplish their mission and most importantly, save many lives.
 

Father honors fallen son with military service

By Cpl. Andrew S. Avitt Okinawa Marine Staff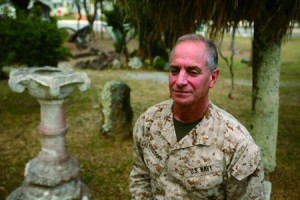 He thought it was a prank when he received a message on his answering machine from the White House. Later that month Bill Krissoff, a 60-year-old orthopedic surgeon from Truckee, Calif., his wife Christine and his son, 1st Lt. Austin Krissoff, were in a small room face-to- face with the president.
Surrounded by the families of fallen service members, President George W. Bush asked if there was anything he could do to soothe the loss of their son, 1st Lt. Nathan Krissoff, who died in Iraq from injuries suffered after a roadside bomb exploded in December 2006.
"Yes Mr. President," Krissoff replied. "I want to join the Navy Medical Corps, but they told me I'm too old."
At 60 years old, 19 years over the enlistment age limit, Krissoff needed waivers to enlist. "The recruiter told me that it would take up to a year," he said, adding that even then his chances didn't look good. After his meeting with the president, Krissoff got his waiver in two days. Krissoff had set his sights on joining the military several months before, but the presidents approval made it happen, he said.
"Fathers usually inspire their sons, I was inspired by both of my sons," he said.
Though one can only imagine the kind of reactions he got  for aspiring to serve at his age. Krissoff said he was determined. Even his son Austin was skeptical at first, he said. He closed his orthopedic practice in Truckee that year and was commissioned as an officer in the Navy Reserve in November.
"After my commission I got a card from my son, it said 'welcome to the fight,'" Krissoff recalled with a smile. "He certainly has come around."
Now, Lt. Cmdr. Krissoff said he enjoys practicing medicine in the military and prefers it to his civilian practice.
"In military medicine you are functioning as a team, taking care of each other. You aren't worried whether he has insurance or about hospital politics," he said. Krissoff, in shape and upbeat for a man in his early 60's, said he liked the idea of working out of a tent.
"I didn't want to work in another brick building, I wanted to deploy," Krissoff said, explaining his desired role in green-side medicine.
"I wanted to do operational medicine; to be a surgeon of Marines."
He is currently enrolled in the pre-deployment training program at 4th Marines Regimental Training Schools at Camp Schwab, Okinawa. He is slated to augment Combat Logistics Battalion 4, 3rd Marine Logistics Group, on their upcoming deployment to Iraq.
Story and Photos by Cpl. Andrew S. Avitt
Assault climbers reach new heights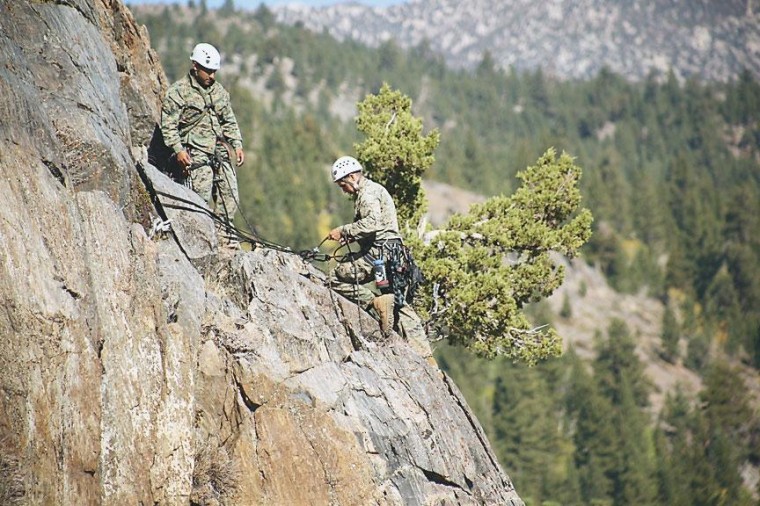 Photo by Cpl. Andrew S. Avitt Two Marines with 2nd Battalion, 5th Marine Regiment conduct a two-party-climb while scaling a 150 ft. wall in Toiyabe National Forest during the Assault Climber's Course Oct. 15, 2010.
Barefoot runners gain traction in high desert
Story and photos by Cpl. Andrew S. Avitt Combat Correspondent
JOSHUA TREE NATIONAL PARK, Calif. — Most runners rely on shoes to pad their feet. Changing their running shoes every six months is a ritual to them, but not to barefoot runners Michael Sandler and Jessica Lee.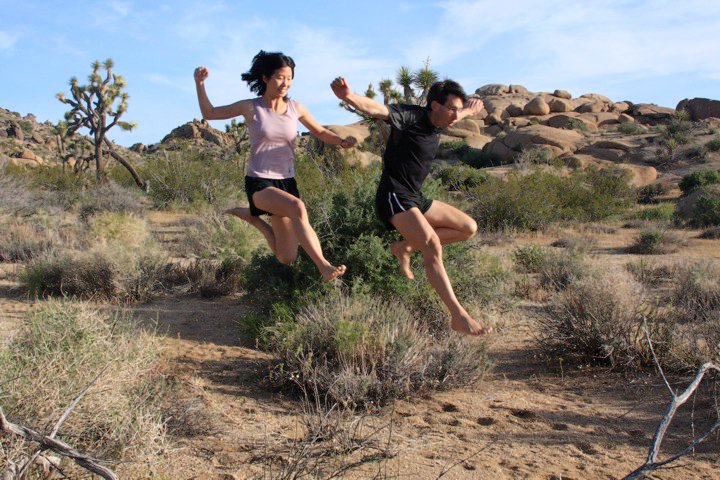 The Boulder, Colo., duo said they don't appreciate the extra weight tied to their feet or the misleading comfort some running shoes provide. They would rather run as their ancestors once did — free. Barefoot running offers various positive effects for runners and could potentially help strengthen the physical performance of members of the U.S. military, said Sandler and Lee.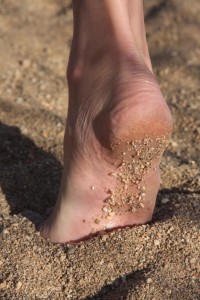 Some of the benefits include developing the feet muscles, a lower-impact workout and an overall improvement in running technique, which could help Marines during physical training and rehabilitation from injuries.
"We believe that could help a Marine in the field," Lee said. "They have to carry a lot of weight, so this type of physical conditioning could be especially useful."
Sandler also has personal experience with common leg injuries many Marines face after years of strenuous running. While training for an inline skating event, Sandler experienced a near fatal accident that changed the way he would run for the rest of his life. Sandler shattered his femur, hip and arm in the accident. Once at the hospital, doctors told Sandler they might not be able to put the broken bones in his leg back together. His chances of walking or running ever again were slim. After 10 knee operations and a year of hobbling on crutches, Sandler decided it was time to strap on his shoes and ease himself back into running.
"I wasn't supposed to be able to run again," he said. "I went from overuse injury to overuse injury, from shin splits to knee pain, to knee tendinitis to hip problems. I used to call it chasing my demons."
So, he hit the Web in search of an answer and soon realized he might be over accessorizing. As he read in an essay titled "Spiridon" by Dr. Joseph Froncioni, "The modern running shoe, presently thought of as a protective device, should be reclassified as a health hazard."
The common idea in Froncioni's essay, and one shared by many barefoot enthusiasts, is being able to feel the ground enables the runner to resume a much more natural stride, and the cushion in running shoes blocks the proper sensory feedback, which is essential for safe and effective locomotion.
"I was completely broken, and couldn't run a mile without pain, so two days later I said, 'Let the experiment begin.'" The first day he could only run 100 yards. With persistence, he increased the distance every other day for three months. Sandler recovered beyond his doctors' imagination.
"I was able to run a 10k faster than I was ever able to in shoes," he said.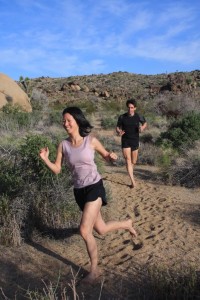 Along his path to runner's enlightenment, Sandler came across Lee, who had previously hated running. That is, until she discovered the joys of doing it without shoes.
The duo offered a few tips for those interested in putting barefoot running to the test. "Start extra slow," Sandler cautioned. "Do a small amount of running barefoot, and then use your footwear to recover, then a little more, and a little more.
"Particularly for better runners, the stronger you are, the slower you want to transition. Force doesn't win this game. Form wins this game," he explained. The "two question rule" should also always be in affect for beginners. "This is important, especially for Marines, to consider while running barefoot," Sandler said.
"The first time you ask yourself, 'Should I stop?,' take a mental note of it. The second time you ask, don't even think about it, just stop," he said, encouraging the beginning barefoot runner to run with shoes in hand, just in case.
Sandler and Lee assured the slight discomfort runners will feel in the beginning is only temporary.
"The first two or three weeks you watch out very carefully for what you step on," Sandler said. "After that, the skin toughens up real quick."
As for glass, rocks, salt, snow or any other potential hazards the pair has been asked about, none have injured them while running barefoot, Lee said.
"Well, except for that time Michael stepped on a bee during a clinic we were hosting," she said, ribbing Michael playfully. Sandler and Lee are currently on the road touring with their new book, "Barefoot Running: How to run light and free by getting in touch with the earth." They are also hosting running clinics in 168 cities across the United States, sharing their experiences and unique outlook on a sport that, perhaps, has been wearing shoes for far too long.
River crossing skills essential in Afghanistan strategy
By Cpl. Andrew S. Avitt MARINE CORPS MOUNTAIN WARFARE TRAINING CENTER, BRIDGEPORT, Calif. – Afghanistan's rolling hills, and seasonal snowfall supply many rivers and streams throughout the country, many of which have no bridges to aid in crossing.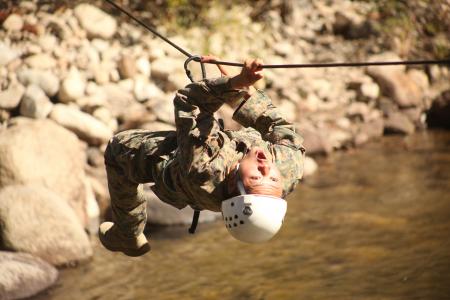 That's why the Marine Corps Mountain Warfare Training Center has just the solution for service members deploying to the Middle Eastern country, who may encounter the wet obstructions more than frequently. Marines and sailors with Special Operations Training Group, 2nd Battalion 5th Marine Regiment, learned to cross and navigate water obstacles during an Assault Climbers Course Oct. 12. After a short class on one-rope-bridges, two teams of about 10 Marines made their way to a nearby stream to conduct the practical application of the bridges with a little twist – competition.
The teams raced to set up their one rope bridge and get their team across the quickest. However, under close instructor supervision, neither team took shortcuts. A unit crossing a stream should set up security like they would crossing a road or any other danger area, said Cpl. Anthony Frank, an instructor at MWTC, during the debrief.
Communication was also stressed, attributing the majority of each team's unorganized efforts to the well-known phrase, "Too many chiefs, not enough Indians."
During the course students were taught to consider multiple things before crossing a river or stream. "If there are rocks or a downed tree which make a natural bridge, a dry crossing would be best," Frank said. "Next would be shallow or standing water, the shallower the better."
Although both teams managed to stay dry during the practical application, they didn't for long.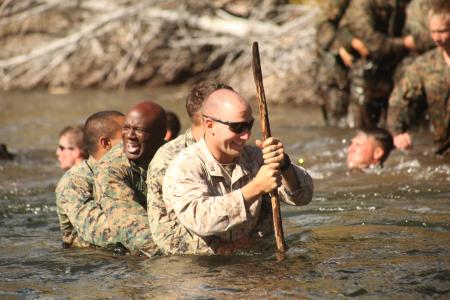 The Marines and sailors' next crossing practical application involved little to no communication as they waded in groups of four in order to break the stream currents and keep from getting swept away.
Conveniently, the training was scheduled toward the end of the training day, so that service members could change into dry clothes shortly after. Keeping as dry as possible and having dry clothes available to change into is more a necessity than a luxury, said Petty Officer 3rd Class Eric Shirley, a Corpsman with 2nd Bn., 5th Marines.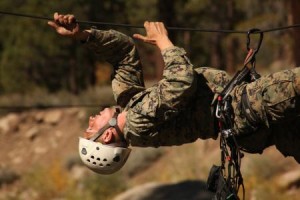 Wounded warrior honored in front of Marine family
Cpl. Andrew S. Avitt Combat Correspondent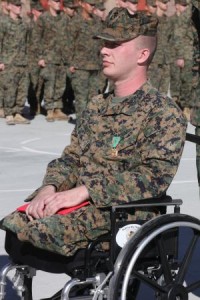 TWENTYNINE PALMS, Calif. – Although Cpl. Jonathan Dowdell was confined to a wheelchair, it was his bravery and relentless optimism that made him stand out among the Marines and sailors of his former unit, Company K, 3rd Battalion, 7th Marine Regiment, as he accepted his Navy Marine Corps Achievement Medal with Combat Distinguishing Device Jan. 7, 2011.
While conducting clearing operations in support of Operation Enduring Freedom June 23, 2010, Dowdell stepped on an improvised explosive device while trying to gain access to a suspected bomb manufacturing facility causing the loss of both legs and nearly his life, his citation read.
"I remember most of it," said the 24-year-old Decatur, Ill., native, after the ceremony at the 3/7 barracks. "I remember the blast and the quick response of all the guys around me. They did what they needed to do, put tourniquets on me and got me out of there."
Despite the quick reaction of his comrades, the loss of blood was so great that Dowdell required two massive blood transfusions during his medical evacuation.
"There's no question that they saved my life," he said. "I feel blessed. The fact that I am here, it could have gone either way." The trip from the Wounded Warrior Battalion in San Diego to his former unit aboard the Combat Center was well worth the trip, said Dowdell.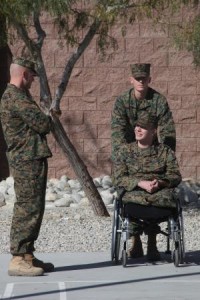 Having the very same Marines and sailors who saved his life at the ceremony made the day just that much sweeter, he said.
"It was nice to see everyone again," he said. "It's tough being in San Diego, to be away from everyone. 3/7 just has a lot of camaraderie. We forged a tight bond over there."
"Once in Kilo, always in Kilo," said Capt. James Lindler, the company commander of Company K after pinning the green and orange medal to Dowdell's chest. "It is a great honor to have him with us today. From Bethesda to the Wounded Warrior Battalion, observers have noted his determination, his positive attitude and the way he tries to inspire other wounded Marines to stay in the fight."
After the brief ceremony, his former unit gathered around to offer their congratulations, but more so to catch up, exchange a few jokes and remember the times they had together. Dowdell stated proudly that he will always be a part of Company K. For now, Dowdell is continuing his rehabilitation in San Diego, where he is learning to walk again using two new prosthetic limbs.
"Being positive is the only way to be. You're not going to get anywhere by kicking yourself in the head," he said. For some, Dowdell's injuries might have embittered them towards the Marine Corps, but Dowdell said his outlook has actually improved.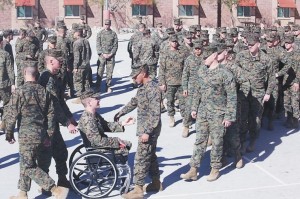 "Every person I've met, either prior service or active duty, gives me a phone number and tells me if I need anything to give them a call," he said. "Everyone has been willing to help wherever they can." It's that caring family attitude from others and his positive outlook that keeps the smile on his face today. Dowdell said it is that same optimism that will strengthen his steps so one day he might be returned to active duty.
-30-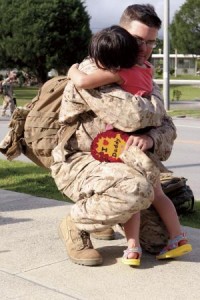 Sgt. Joseph Fincher, a combat engineer with Combat Assault Battalion, 3rd Marine Division, III Marine Expeditionary Force, hugs his daughter at a reunion in front of the battalion headquarters building on Camp Schwab Sunday. Fincher just returned from a deployment to Afghanistan after serving six months in support of Operation Enduring Freedom.
Training to understand: Marines prepare for deployment
By Cpl. Andrew S. Avitt
The faces of Marines and sailors of 3rd Light Armored Reconnaissance Battalion and 2nd Battalion 3rd Marine Regiment were filled with curiosity as they stepped into classroom where the desks were replaced by oriental rugs and the teachers spoke a different language then their own.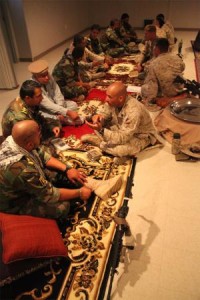 Two groups of about 50 Marines engaged in Cultural Immersion Training to learn more about the afghan culture and the people that they would be working with in Afghanistan while deployed, Aug. 13.
The dimly lit room served as a meeting place for a mock Shura which involved participating Marines and sailors to communicate with afghan role players using body language and interpreters, similar to what their mission will require while deployed, said Staff Sgt. Michael Pascalis the operations chief with the Advisor Training Group.
"The Marines receive cultural classes beforehand to offer a base," he said. "When they get here, they test their knowledge through practical application, and the role players will tell them when something is wrong," Pascalis said. "What we are doing here is essential to their mission over there."
One group, the Police Mentor Team, spent their time with afghan role players posed as members of the Afghan National Police, while in a separate class room members of the Embedded Training Team interacted with role players posing as the Afghan National Army.
"It's great getting to know each other," Staff Sgt. Marvin Chee a platoon sergeant with 2nd battalion 3rd Marine Regiment with the Embedded Training team faction. "In Afghanistan they take their culture very seriously. They stick to their roots, and some Marines that go over there don't understand the culture, and sometimes without even knowing it come off disrespectful," said the Iraq and Afghanistan veteran at the end of the hour and half training.
The two teams discussed culture, military customs and the upcoming mission with the Arabic speaking role players, with a ratio of nearly one interpreter for every 20 Marines.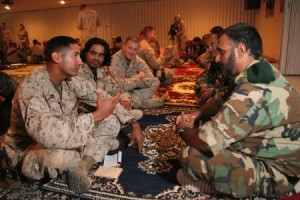 "From training day one, it's been all about getting the basics, becoming immersed in the culture, learning about religion, customs, and the structure and inner workings of the ANA," said 1st Lt. Derek McVay with 2nd battalion 3rd Marines, "This provides a special opportunity to hone the skills that we are going to be implementing during our mission in Afghanistan."
Throughout the interaction common ground was found, jokes were told and stories were exchanged, enforcing the belief that, although two cultures couldn't be more different, a common goal and mission can be obtained.
Worth a Thousand Words: Combat Center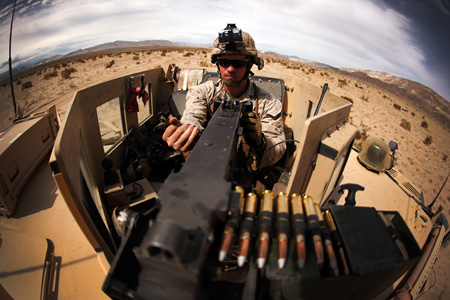 A turret gunner with Police Advisory Team, 1st Battalion, 3rd Marine Regiment makes ready his .50-caliber machine gun, during a Motorized Operations training exercise at the Marine Corps Air Ground Combat Center Twentynine Palms, March 2, 2011. U.S. Marine photo by Cpl. Andrew S. Avitt
Marines, sailors, airmen train as combined fighting force
By Cpl. Andrew S. Avitt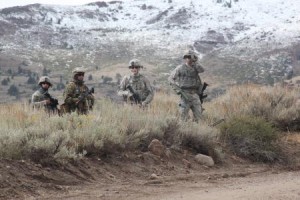 BRIDGEPORT, Calif. – Airmen say "jarhead," Marines say "flyboy," but despite the playful name-calling, members of the two military services worked well together at 8,000 feet while conducting a cordon and search exercise at the Mountain Warfare Training Center Wednesday.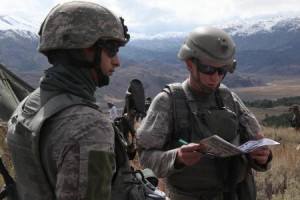 The high altitude hike helped prepare the war fighters for upcoming deployments to Afghanistan and future operations as a combined fighting force.
The Marines and sailors with 1st Battalion, 3rd Marine Regiment, along with four airmen from various explosive ordnance disposal units, worked together with Afghan role players to successfully diffuse a roadside improvised explosive device.
"This is good for us," said Air Force Tech Sgt. Christian Mckay, an EOD craftsman with the 48th EOD. "When we are deployed to Afghanistan or Iraq, we are out there working with a lot of different services."
After a two-kilometer hike up steep terrain, the patrol came to a small simulated village on the crest of a hill. U.S. Marine 2nd Lt. Jeremy Dittmer, the commander of 3rd Platoon, Company C, along with Air Force Staff Sgt. Robert Laney, an explosive ordnance craftsman with 9th EOD, sat with the town's Afghan elders, engaging in a common practice for U.S. military members deployed overseas.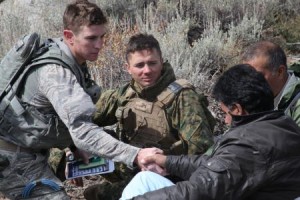 "Marines have always been trained to kill the enemy," Dittmer said. "But in this kind of environment, with that kind of attitude, the enemy is ourselves, which makes this a great opportunity to work on our people skills." Dittmer explained the capabilities of U.S. medical assistance and supplies, and then offered the use of the medical staff to help the villagers.
Through the use of an interpreter, the elders, now friendly and comfortable with their guests, informed the patrol of a possible IED on the edge of town.
Next it was Laney's turn to do the talking, as he asked specific questions relating to the whereabouts and size of the threat.Using the intelligence provided by the elders, Marines and sailors took up security positions while the Air Force EOD team probed for explosives using a metal detector and eyes trained to spot bomb materials.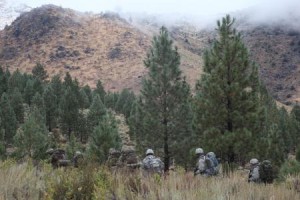 It wasn't long before a few containers, wired together and hidden behind a large boulder, were discovered mere feet from the road. After setting up the proper perimeter, a notional charge was placed by the IED for proper disposal. After the simulation was complete, Air Force Senior Airman Ryan Hoagland reflected on the joint exercise.
"This is all really new to me, because I've never deployed," he said. "Working with the Marines and seeing how they operate was a major takeaway."